Roquefort shares have shot up since late July after years of underperformance. Despite this, the biotech looks undervalued to me.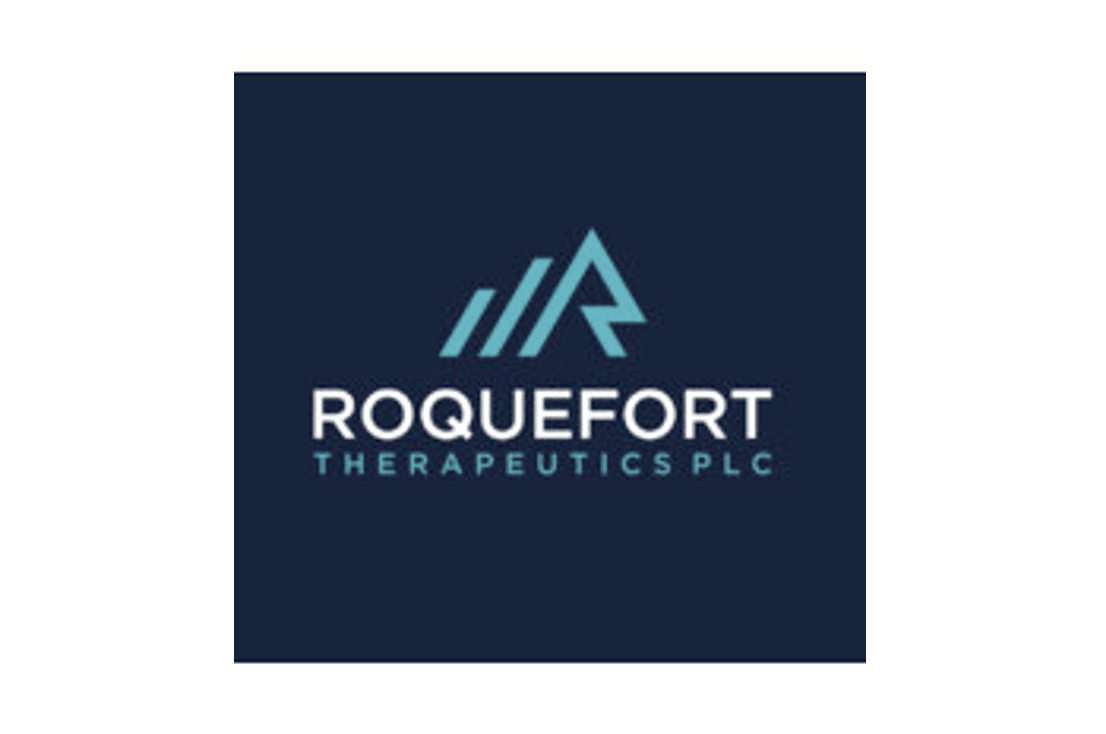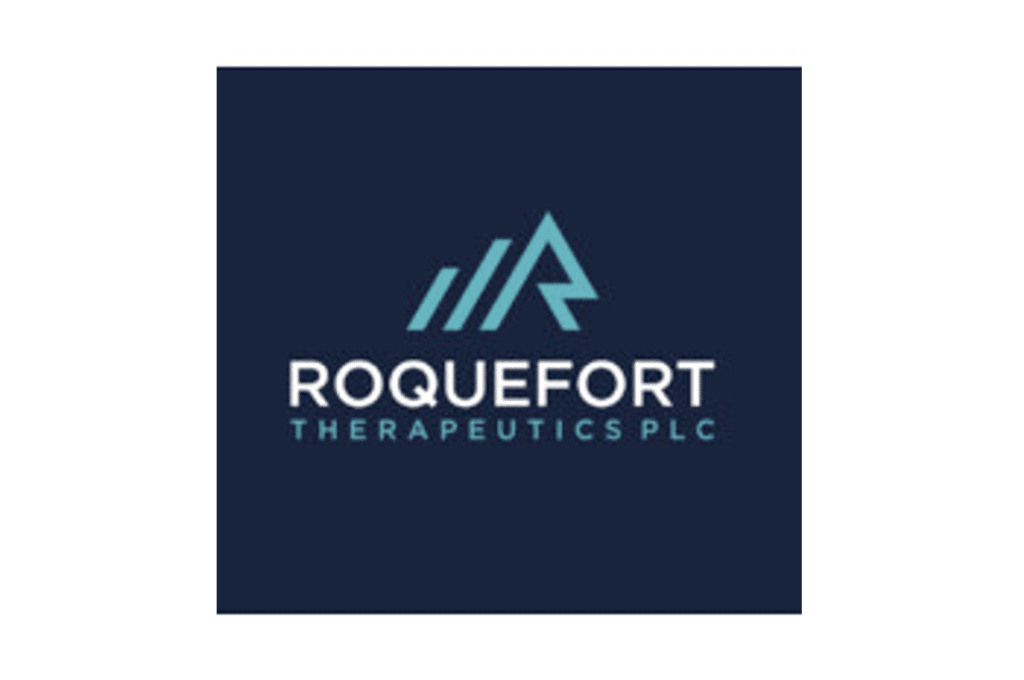 Roquefort Therapeutics (LON: ROQ) shares have risen sharply in August after a brief suspension from trading earlier in the year. As an afficionado of London-listed small cap stocks — and specifically in the high-risk areas of mining and life sciences — ROQ has been on my radar for while.
As an aside, mining and biotechs have far more in common, form a financial viewpoint, than many realise. Early stage operators spend millions on developing a flagship asset that may or may not succeed; failure leads to collapse, while success leads to a buyout by a major.
But unlike many smaller biotechs, the £11 million company has many arrows in its quiver. This is, of course, a double-edged sword – multiple bites of the apple require more cash, but mean that one failure is not the end of the road.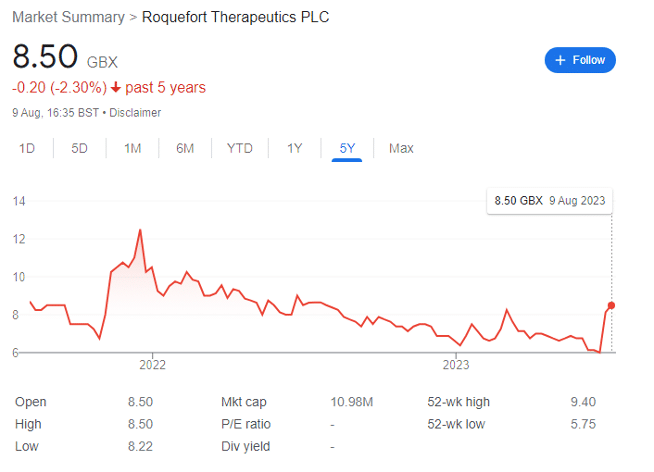 In this piece, I am going to objectively outline where ROQ is now, and also identify the key catalysts.
ROQ shares: investment case in brief
Acquisition of Oncogeni
In a significant strategic move, Roquefort acquired Oncogeni in September 2022, potentially reshaping its trajectory, for better and for worse. The acquisition was conducted through the issuance of 50 million new ordinary shares and a share placing that generated £1,015,000 (excluding costs).
This acquisition marked the company's transition into a major player in the competitive field of oncology, but perhaps left it in a weaker financial position as monetary policy continued to tighten.
Diversification and Enrichment of Portfolio:
The acquisition of Oncogeni saw Roquefort's pre-clinical portfolio expand significantly, and it now encompasses four fully funded drug development programs:
Midkine Antibodies: Demonstrating compelling in vivo efficacy and toxicology studies.
Midkine RNA Oligonucleotides: Pioneering anti-cancer gene editing with novel approaches.
STAT-6 siRNA Therapeutics: Targeting solid tumors with remarkable in vivo efficacy.
MK Cell Therapy: Delivering anti-cancer action via direct and NK-mediated approaches.
It only takes one for the share price to start moving.
Fortifying Leadership:
Over the past few months, Ajan Reginald came on board as CEO — previously CTO at Novacyt, which in acquiring Yourgene. Professor Sir Martin Evans, a trailblazer in embryonic stem cell research, is in as Chief Scientific Officer — and Dr Darrin Disley, a well-known figure in life sciences and technology small caps, has also joined as Non-Executive Director, enhancing the company's strategic acumen.
Leveraging Advanced Laboratory Capabilities:
Roquefort Therapeutics is still learning how to fully harness Oncogeni's Stratford-upon-Avon advanced laboratory facilities. This state-of-the-art laboratory will become its cornerstone for cost-effective pre-clinical development across its diverse domains, such as antibodies, oligonucleotides, cell therapies, and gene therapies.
Momentum and Milestones:
The Midkine antibody program has achieved in vivo safety for metastatic breast and lung cancers.
Promising progress has been made in its siRNA interventions, MK cell therapy, and Midkine RNA oligonucleotides in the pre-clinical arena.
Worldwide License Agreement:
Roquefort Therapeutics recently entered into a strategic collaboration with Randox Laboratories, marked by an exclusive worldwide license agreement spanning an entire decade. With luck, this collaboration could accelerate patient diagnosis and improve its clinical trial success rates.
The overarching vision is to reshape the oncology landscape through synergistic innovation and strategic partnerships — though these are big ambitions for a small cap minnow.
Recent (abridged) CEO quotes: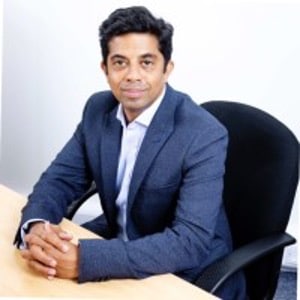 19 June — 'We decided to target metastatic osteosarcoma because of the high unmet medical need. There is a very poor 5-year survival rate of just 24%, and this poor survival is associated with over-expression of Midkine. Our rationale was that by targeting Midkine, we would be able to attack both primary tumours and metastasis. The in vivo results vindicate this approach and demonstrate the potential for a best-in-class medicine.
This strategy to focus on areas of high unmet medical need is underpinned by the orphan drug incentives (including market exclusivity, efficient clinical trials and tax incentives) and the higher market valuation and return on investment for the investors in companies with approved orphan medicines. Finally, this approach seems to reduce risk, with significantly higher clinical trial success rates particularly in phase 1 and 2 trials particularly with a biomarker, which in our case is Midkine.'
22 June — 'Liver cancer is growing with incidences forecast to increase to one million new patients per year by 2025. It remains an area of high unmet medical need with a 5-year survival of only 21% because the existing medicines have limited effect. Midkine is associated with progression, metastasis and resistance and we feel this is a cancer in which we should focus our portfolio of Midkine targeting medicines including antibodies, mRNA and the anti-sense oligonucleotides. These oligonucleotides attack a different Midkine region versus the antibodies and mRNA, and this diversity of targeting may be helpful in developing mono or combination therapies.'
7 August — 'We are encouraged by the recent commercial validations of both siRNA as a therapeutic modality and STAT-6 and SH2 as highly attractive medicinal targets. The recent multi-billion dollar licensing deals indicate a high level of interest in this niche in which we were early innovators and were able to acquire strong patent positions before the market valued these asset classes. Our siRNA programs target the very attractive SH2 domain and have demonstrated highly specific efficacy in validated STAT-6 models.'
Summary and next steps
While ROQ is actively developing its R&D pipeline, the key driver could be a potential acquisition of the company by a third party. Private equity and larger pharma giants alike are sitting on huge cash reserves to buy during the downturn — and are using it, with dealmaking up by 150% compared to 2022, as businesses like AstraZeneca seek to replace their expiring patents.
The near-term catalyst is the Midkine portfolio — ROQ is now planning in vivo studies, in parallel with mRNAs in a highly synergistic and efficient set of in vivo studies in Q3-4 2023.
But the buyout could be sooner — of course, that's just my speculation.
This article has been prepared for information purposes only by Charles Archer. It does not constitute advice, and no party accepts any liability for either accuracy or for investing decisions made using the information provided.
Further, it is not intended for distribution to, or use by, any person in any country or jurisdiction where such distribution or use would be contrary to local law or regulation.