From energy to pensions to housing policy, it's harder than ever to invest with any certainty. The endless volte-face has to stop.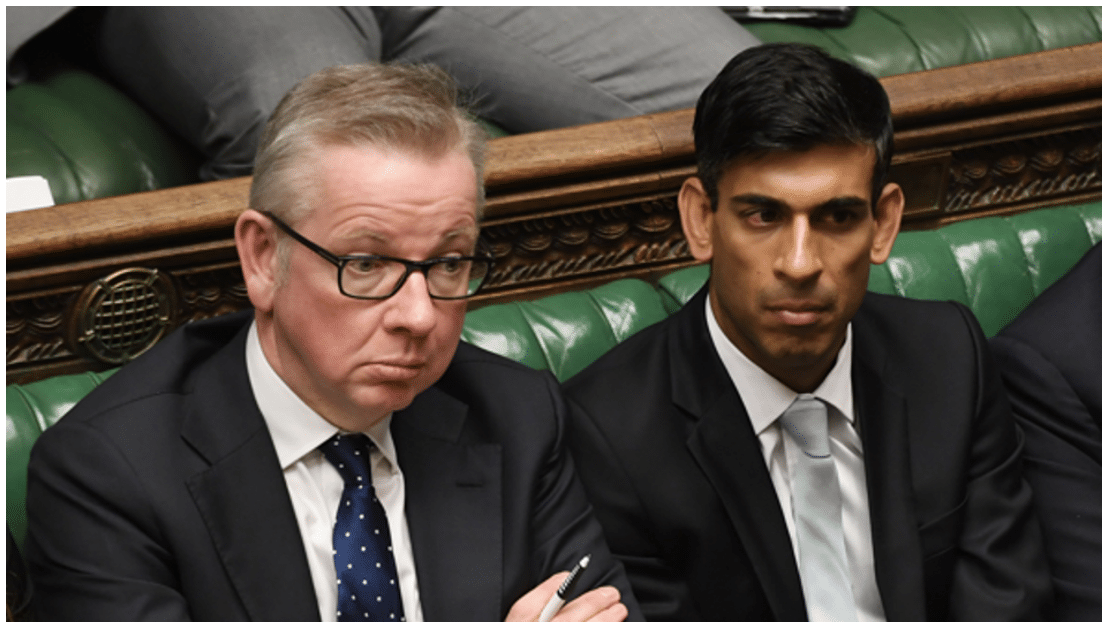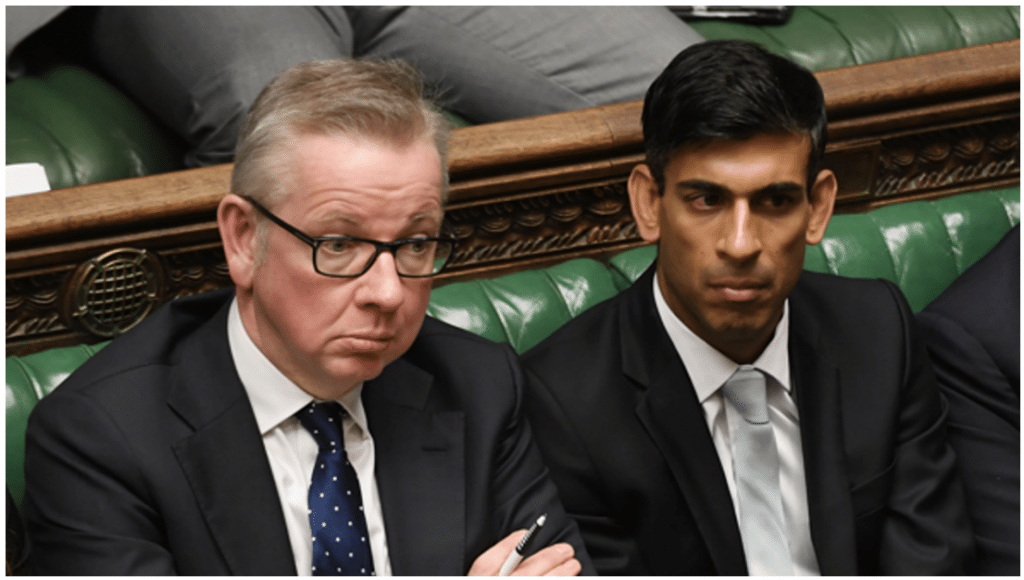 As a financial analyst, I do try my best to stay away from politics. When the NatWest CEO excommunicates a customer for his legally held political views, or a Minister is blatantly lying through their teeth, I tend to ignore it unless there is a direct impact on the stock market.
Of course, when it comes to energy, pensions, and housing announcements, these have a direct impact and cannot be ignored. It used to be that I would cover something material on the rare occasion, as serious and well thought out policy takes time to design and implement. But when something new is coming out every week, all it signals is uncertainty.
Here's the latest updates:
Oil & Gas
I've talked about this before, but one of the key problems with institutional investment in the UK is that our politicians do not think about the long term.
When Brent went negative for the first time in mid-2020, the government did not step in. When hydrocarbons exploded, it was the North Sea that became politically expendable — with a tax rate now at 75%, even though the likes of BP and Shell derive less than 10% of their international revenue in the region and the windfall tax was meant to last only until prices returned to normal — which they now have.
Then you have Labour announce that they will abolish the granting of new licences, ensuring that anyone who planned on investing anything would completely give up.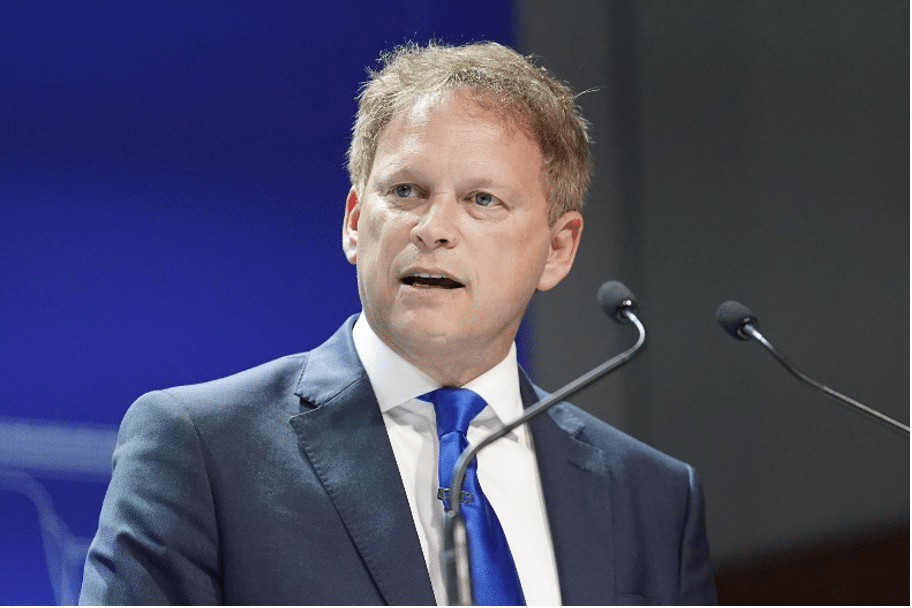 Now Grant Shapps —who serves in the oxymoronic role of minister for Energy Security and Net Zero — has decided we must extract all remaining commercially viable resources to pay for net zero. But Harbour, Total, CNOC, Neptune, Ithaca, and Enquest have already made or planned their exits, because arranging a decade-long investment requires semi-stable policy.
Net Zero
COP26 was only two years ago, but it feels like a fever dream. Michael Gove — in charge of levelling up, housing, and communities — when asked to comment on the ULEZ expansion that helped his party scrape the Uxbridge by-election, decided that replacing gas boilers with the sanctified heat pumps might need to be reviewed.
As though he was commenting on the weather, and not a multi-multi-million dollar plank of Net Zero policy.
However, he's decided that the 2030 ban on new ICE cars — five years before the EU — is 'immovable,' at least until he loses his seat in a year or so. Gove has made an 'absolute guarantee' that new sales will be banned in six and a half years, but PM Sunak has refused to definitively agree with this position, with Number 10 instead noting that some measures might be delayed.
Home Secretary Suella Braverman, Foreign Office Minister Andrew Mitchell, and court jester Jacob Rees-Mogg have all cast aspersions on the aspiration.
And then there's the ban on onshore wind, which nobody has any idea will remain in place or continue; and the nuclear SMRs that Rolls-Royce has been begging the government to commit to for about a year.
Housing
The government ostensibly has an 'optional' new building target of 300,000 homes per year by the mid-2020s. I say optional — it was in the 2019 manifesto upon which it was elected.
Gove believes this figure is realistic, even though it has been missed every year since former Chancellor Philip Hammond introduced the policy in 2017. December saw compulsory building target proposals watered down, and now the government wants no greenbelt building. But Gove is happy to convert the shops forcibly closed down by insane business rates into new homes.
And with Help to Buy gone and the Stamp Duty holiday over amid the 6-7% mortgage environment, FTSE 100 housebuilders are falling over themselves to reduce building numbers. Then there's the impact of immigration to consider — and this is not a political point — but the government went through with Brexit to 'control the borders' and yet 1.2 million people immigrated into the UK in 2022, and only 557,000 left.
And if you want a quick summary of UK real estate policy, have a gander at Marks & Spencer CEO Stuart Machin's contempt — it's quite something to read: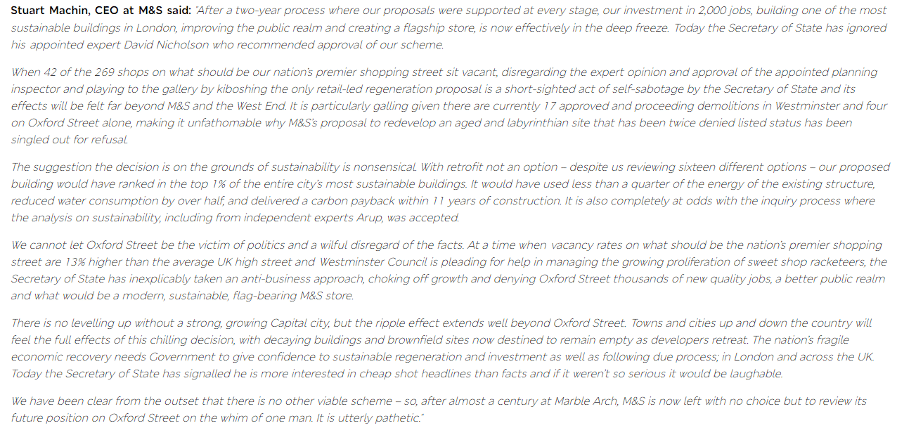 The key point is that making the multi-million or even multi-billion-dollar investments that the UK needs, requires some long-term regulatory and legislative certainty.
Otherwise, the economy will continue to flail.
This article has been prepared for information purposes only by Charles Archer. It does not constitute advice, and no party accepts any liability for either accuracy or for investing decisions made using the information provided.
Further, it is not intended for distribution to, or use by, any person in any country or jurisdiction where such distribution or use would be contrary to local law or regulation.