Oxford Biodynamics shares have shot up, and deservedly so. However, there will likely be a pullback for a better entry point.
Oxford Biodynamics (LON: OBD) shares were changing hands for as much as 278p five years ago and had collapsed to circa 10.5p towards the end of September 2023. The share has now shot up to 34p after the company launched its prostate blood screening test. I am very much hoping for a similar outcome for another cancer blood testing AIM company, Cizzle.
But does OBD now deserve a spot in the portfolio?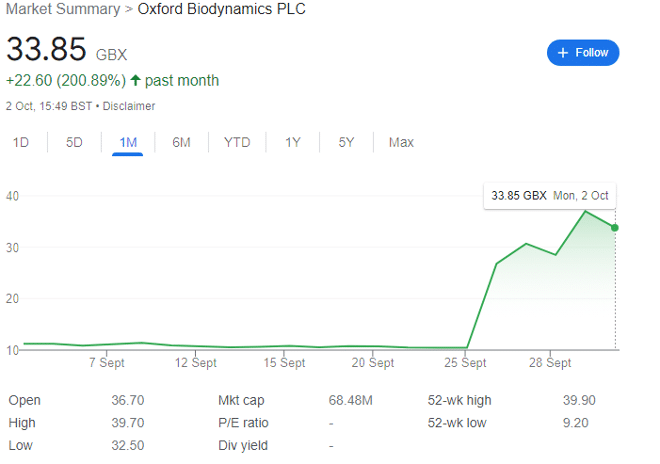 Oxford Biodynamics: finances in brief
The most recent financial results come from the six-month period to 31 March 2023 — so are relatively out of date. But in essence, revenue came in at £220,000 (essentially negligible for a company with a £70 million+ market cap.
The company is clearly loss-making (nothing wrong with this, it's a biotech growth stock), and raised net £8.5 million in October 2022. It held £4.6 million in cash and term deposits at 31 March 2022, and £3.6 million at 31 March 2023.
It's therefore relatively easy to calculate the cash runway, though it's worth bearing in mind that theory and practice are two different things.
If OBD had £4.6 million at the end of March 2022, and added £8.5 million to its cash pile mid-financial year for a total of £13.1 million, and ended the period with £3.6 million, it spent roughly £9.5 million over the 12-month period — or around £790,000 per month.
This means with £3.6 million in the bank and a £760,000pm cash burn, the company had a cash runway of about 4.5 months taking it mid-July before it needed to raise more funds. Unsurprisingly, this was announced on 1 August.
A few days later, the company added £5.6 million to its cash position via a placing through an accelerated bookbuild process and through direct subscriptions at a placing price of 11p per share — with some shares bought through the Enterprise Investment Scheme, a tax-advantaged process I cover for clients elsewhere that makes the advantages of an ISA look weak by comparison. These additional shares represented 25.7% of the company's share capital after the dilution.
If you are a higher-rate taxpayer and haven't heard of EIS — I've covered the basics here.
OBD also raised £543,577 via a retail Primary Bid offering, bringing the total issued new shares to 27.5% of the company's total issued share capital, and the total extra cash to circa £6.1 million. Importantly, several management team members bought into these placings, showing some confidence in the company.
This gives OBD a runway close to eight months from the start of August, so unless revenues start to rise sharply, investors have until roughly the end of March before more cash will be needed. I will note that this is a good example of how timing an investment right, even if there's solid tech at the heart of a company, is crucial to long-term investing success.
Of course, the RNS on 26 September may be what investors needed to hear.
EpiSwitch Prostate Screening blood test (PSE)
The share price catalyst was a moment investors have been waiting for, for some time. Oxford Biodynamics launched its 94% accurate EpiSwitch Prostate Screening blood test (PSE) for men with prostate cancer risk in the US and UK.
To summarise:
Validation was completed in OBD's US-based CLIA-certified clinical laboratory, enabling immediate launch of the test.
PSE is designed to run alongside a standard PSA test.
PSE boosts PSA predictive accuracy from 55% to 94% for determining the presence or absence of prostate cancer.
Increased accuracy of diagnosis significantly reduces false positives, thus decreasing unnecessary referrals for invasive biopsies.
For some clarity, the current standard of care is the PSA blood screening test which is only 55% accurate — you may as well flip a coin, and the NHS unsurprisingly treats it as unreliable. If results from this test show an elevated PSA level, patients can retest, have an MRI, or opt for the health risks of a prostate biopsy.
Not great choices.
OBD's new PSE test has been designed to run alongside the PSA test, combining the PSA score with five 'proprietary epigenetic biomarkers' to predict the presence or absence of prostate cancer with 94% accuracy. Those found to have a low likelihood of cancer can avoid a biopsy, and those with a high likelihood can be referred for treatment faster.
In addition to the high accuracy, PSE has high specificity of 97% (PSA 53%), sensitivity of 86% (PSA 64%), high positive, 93% (PSA 25%) and high negative 95% (PSA 86%) predictive values to assess the risk of prostate cancer. And because PSA is just one component of the PSE test, PSE works with all PSA values from low to high.
The new test will be available to men in the UK using the US testing facility straight away, though the company is seeking ISO15189 certification for a clinical lab within its UK-based Oxford laboratory, which should allow the test to be processed there by 'early 2024.'
Key quotes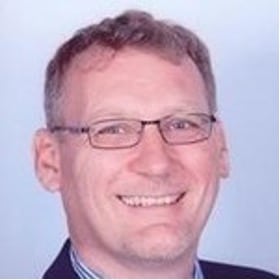 Oxford Biodynamics CEO Dr Jon Burrows:
'There is a clear need in everyday clinical practice for a much more accurate blood test that can screen men for prostate cancer and accurately identify those at risk, while sparing those who up to now would be subject to unnecessary, expensive, and invasive procedures.'
Mathias Winkler, Consultant Urologist and Surgeon, Charing Cross Hospital and Imperial College London (OBD partner):
'PSE is a diagnostic prostate cancer test with unprecedented accuracy. Nine of 10 cancers are found compared to 3 of 10 with PSA alone. Likewise, false-positive results are reduced avoiding unnecessary anxiety and expense. This is clearly highly desirable for men who are health-conscious or at risk of prostate cancer. We are delighted to be part of the team evaluating and refining the test for use in particular risk groups (black men) and prospectively validating in a larger patient cohort compared to current standard of care.'
Dr Phillip Pierorazio, Section Chief of Urology at Penn Presbyterian Medical Centre, and Professor of Surgery at the Hospital of University of Pennsylvania:
'Although the traditional PSA has demonstrated clinical utility in prostate cancer screening and monitoring, it also has limitations that are well-described. A more sensitive and specific test would have the potential to increase diagnostic accuracy and address some of the current challenges with prostate cancer screening.'
The bottom line
There are two things being alluded to here and — ironically — OBD may not want to put a finger on it.
First, this test could save patients a lot of personal misery (let's face it, the current GP test for potential prostate cancer isn't exactly much fun for most). More seriously, it could encourage patients to come in who may have avoided getting tested in the past, and will likely save thousands of lives.
Second, this improved testing could save health services like the NHS buckets of money. That's the unsavoury side of diagnostics testing — fewer biopsies, MRIs, fewer patients needing advanced treatments, etc etc all comes with a decent cost saving — which can be translated into profit margin.
Of course, OBD also has other tests using its EpiSwitch platform, but this is now the flagship.
I'm in.
This article has been prepared for information purposes only by Charles Archer. It does not constitute advice, and no party accepts any liability for either accuracy or for investing decisions made using the information provided.
Further, it is not intended for distribution to, or use by, any person in any country or jurisdiction where such distribution or use would be contrary to local law or regulation.