Cizzle shares now look decent value for long-term investors — a strong component for the biotech portfolio. Read the condensed update below.

With a slew of AIM companies reporting results — I thought it would be a good idea to take a brief look at Cizzle for the first time since late February. Alongside Avacta — who also reported back today — Poolbeg Pharma, and Hemogenyx, the four account for some of the top London biotech shares to watch.
When I last looked at Cizzle, the stock had almost doubled within a couple of months to 2.96p, and there was strong excitement for a variety of factors. As a speculative investment, I rode the initial wave of excitement to sell at 4p — and would have held longer, but the Biomarkers conference simply didn't deliver the catalytic RNS I (and many others) were waiting for.
The subsequent slide in share price was essentially inevitable, but after using the profits to buy back in for 2p in July, the question now is whether to allocate more capital to Cizzle, which is currently the smallest position of the four.
For context, Cizzle shares have fallen by about 80% since launching its IPO at 10p in 2021 — and this gives context to the 39% increase year-to-date. With the bottom of the AIM market essentially in (small caps fall relative to interest rates; and rates are now at or near their peak), there's arguably room for growth at a company with solid biotechnology that has simply been battered by the wider macroeconomic environment.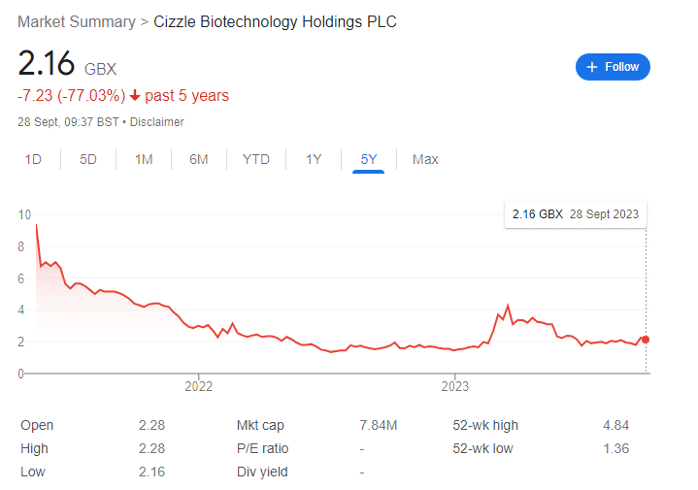 Let's dive in.
Cizzle shares: interim results
Today's results (six months to 30 June 2023) appear relatively strong. It's always worth starting with finances when you're looking at microcaps, so I'll start there:
corporate expenses, before exceptional items were £342,000 (essentially flat y-oy)
non-cash corporate expenses relating to a share option charge of £115,000
tax credit of £26,000
However, the key data is total loss for the period, which stood at £431,000, a 10.5% increase on the same half last year. This essentially tracks inflation, so in real terms the loss was static, but with a loss per share of 0.12p.
It's worth noting that CIZ raised gross £350,000 in mid-June at 2.1p per share, to be used to:
provide working capital
continue development of its laboratory-developed test accredited service for the early detection of lung cancer
progress the proprietary CIZ1B biomarker blood test through to UKCA, CE marking and/or FDA 510(k) clearance
start development of its Point of Care rapid test for use in doctors' offices and pharmacies
It also signed off on a variation to its £500,000 loan facility with E3, to vary the terms of the facility — enabling the placing to continue at a premium to the fixed repayment price of the facility of 1.8p per share. Further, it was extended to December 2024, and will be drawable in £100,000 tranches to be repaid in company shares.
With a cash balance of £451,000 as of 30 June because of this placing — and access to financing with a monthly cash burn of about £70,000 — Cizzle does have a reasonable cash runway at present. You can assume there's roughly £240,000 of cash left at hand today, leaving circa 3-4 months of runway before it would need to start drawing down on the facility.
Arguably, the fact that it can get financing where the loan will be repaid at a fixed 2.1p per share is a good sign.
The other (highly contentious) financial update saw Cizzle exercise its put option to sell its 5% economic interest and royalty sharing agreement in the AZD 1656 asset to treat inflammatory pulmonary and cardiovascular disease, to Conduit Pharmaceuticals for 395,460 shares in the company.
Perhaps this is the equivalent of pouring money down the drain, especially given the IPO performance of the investment, but it's also worth noting that these shares now also represent a source of further non-dilutive funding to pursue more important concerns.
Operational updates
Would-be investors should do some significant due diligence, but in brief, Cizzle is developing a blood test for the early detection of lung cancer.
Its technology is based on the ability to detect a stable plasma biomarker, a variant of CIZ1 known as CIZ1B. CIZ1 is a naturally occurring cell nuclear protein involved in DNA replication, and the targeted CIZ1B variant is highly correlated with early-stage lung cancer.
The test itself is planned to be no more complex than a covid-19 lateral flow test.
Key recent updates to be aware of include:
a new 12 month agreement with the University of York running to 25 September 2024, which will build on successful outcomes of the current research programme, including meeting key milestones for monoclonal antibody characterisation and assay platform optimization.
the expansion of Cizzle's research programme with the University of York to develop the flagship CIZ1B biomarker technology for early stage cancer diagnosis. This follows significant progress in isolating additional new and specific monoclonal antibodies to the CIZ1B biomarker and incorporating these into a new clinical diagnostic immunoassay platform.
Cizzle and Bio-Techne, a $10.7 billion NASDAQ behemoth, announced progress evaluating specific monoclonal antibodies for Cizzle's CIZ1B cancer biomarker. Cizzle has successfully completed an evaluation programme aimed at assessing the feasibility of using the Simple Western platform from Bio-Techne brand ProteinSimple, for high throughput detection of the CIZ1B cancer biomarker which may be useful in the detection of early-stage lung cancer.
The Bio-Techne news is particularly important because any hint of measurable success and the buyout partner is readymade to make an offer.
And moreover, CIZ notes that 'recent developments meet key milestones to begin commercial clinical trials. The Company is now engaged in clinical trials design to support the validation and accreditation of the CIZ1B test prior to commercial launch.'
A successful commercial launch could see an offer come fairly quickly.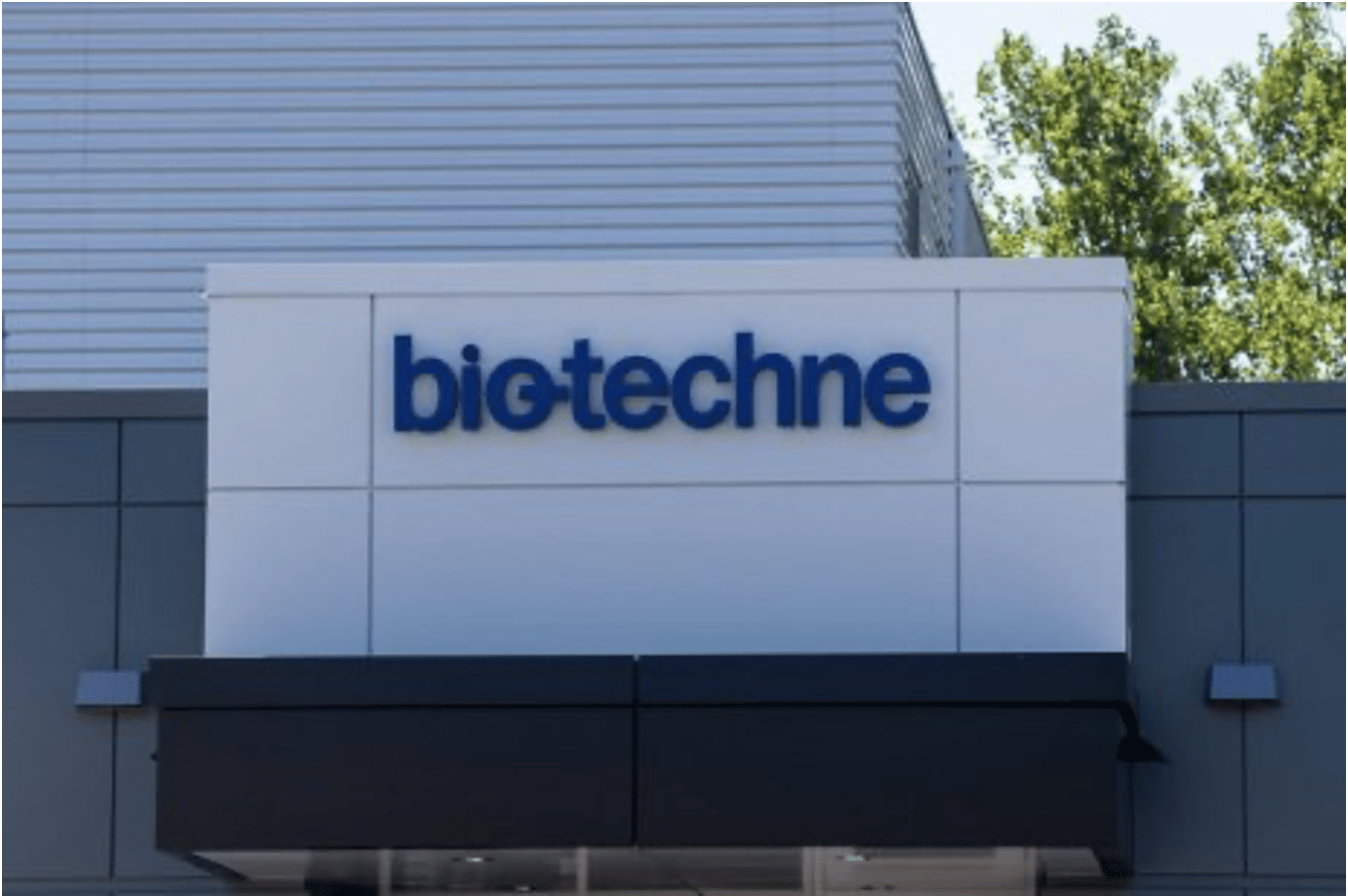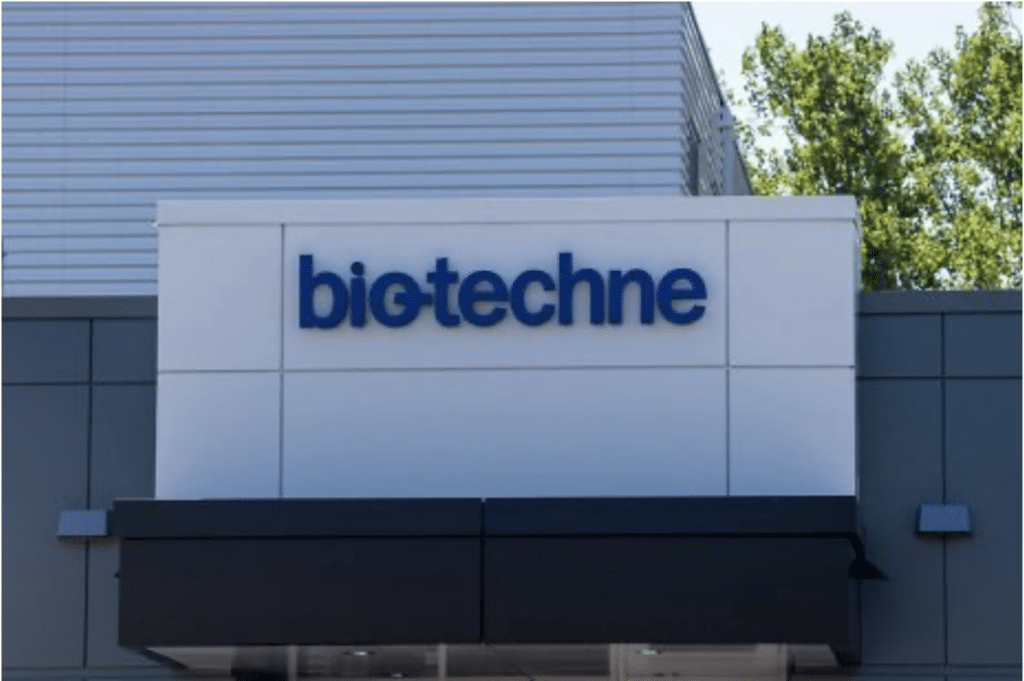 Chair Allan Syms notes that 'Bio-Techne have worked closely with Prof Coverley's research team at the University of York and having completed a successful evaluation programme, we are now able us to accelerate our clinical trials programme, initially in the USA.'
The endgame is to develop simple and cheap blood tests for early cancer detection that can help save lives. The priority at present is to achieve LDT (Laboratory Developed Test) accreditation and then to expand the use of our CIZ1B antibodies for use in a lateral flow format.
The bottom line
Bio-Techne's Simple Western platform will massively accelerate Cizzle's value horizon, and the company should soon have a LDT test ready for a US launch. Then it's a case of getting FDA approval, similar regulatory approval in the EU and UK — and then cracking China.
Interestingly, the AIM biotech was invited by the British Embassy to showcase its expertise in China this month — and a test as rapid as the covid-19 lateral flow tests but for lung cancer detection could easily catch the country's imagination.
Cizzle is still very early stage, but at circa 2p per share the value for long term investors is there.
This article has been prepared for information purposes only by Charles Archer. It does not constitute advice, and no party accepts any liability for either accuracy or for investing decisions made using the information provided.
Further, it is not intended for distribution to, or use by, any person in any country or jurisdiction where such distribution or use would be contrary to local law or regulation.