In the space of two weeks, certainty has once again leaked out of the company. Let's break down that RNS.
Premier African Minerals (LON: PREM) investors may have found the cure for anhidrosis — a life-threatening condition where the patient is unable to sweat, and therefore cannot maintain homeostasis. Unfortunately for shareholders, this is a mining company and not a biotech outfit, so it must be judged purely on what's coming out of the ground.
For context, PREM shares — having recovered from last Friday's drop — are now changing hands for circa 0.4p each. This was exactly the same price level the company found itself at when I covered the stock in late June at the stage of maximum fear.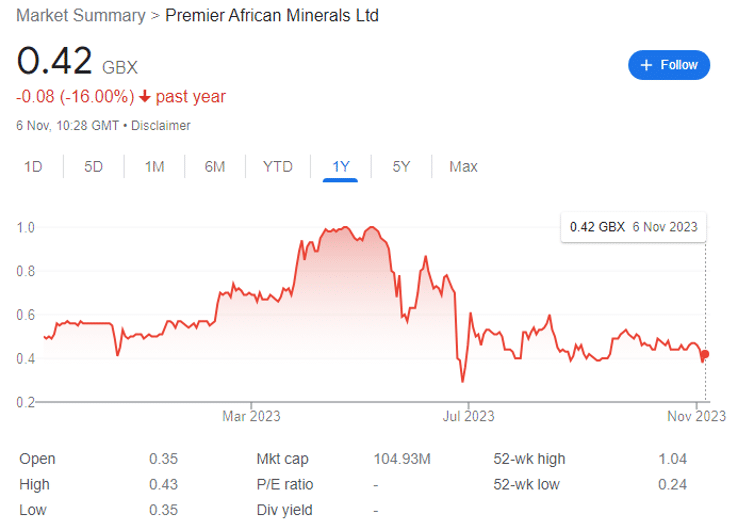 For those with short memories — PREM had issued a Force Majeure, Canmax had walked away, and the deal was split asunder. Fear and chaos were the order of the day. Since Canmax returned, that fear had evaporated, with investors mostly confident that the minimum delivery of 900 tons of high quality spodumene by 25 November 2023 would be made.
Indeed, it was only two weeks ago that CEO George Roach was claiming that the deadline would be 'comfortably reached' — and for my own part, every single piece of publicly available information suggested that this was going to happen.
Then last Friday's RNS dropped. Let's dive in.
Last Friday Night
We can get one item out of the way quickly. Plant contractor STARK has 'accepted payment of $2.5 million in new ordinary shares at the price of 0.44 pence per Share.' Importantly, there is no guarantee that the private company has held onto these shares — and indeed may have already sold them to fund ongoing optimisation of the plant.
There's also further dilution likely coming — as Goddard will also need paying. These are essentially non-issues, as investors were pre-warned in previous RNSs.
But the key issue is regarding whether the delivery target — which investors were repeatedly ensured would be met — will now be missed. While 'extensive optimisation of the Zulu plant continues,' apparently there are yet more problems to be addressed.
As per usual, the RNS is about as clear as a solid wall painted in Vantablack — a hallmark of many AIM companies, usually to disguise the facts.[1] However, when you break it down, there are the positives and the negatives:
Positives
Roach comments that 'meeting the initial shipment target date is our main priority at this time and we will provide further updates in due course'
'Zulu is producing concentrates'
'we anticipate that these concentrates will meet the required specification as set out in the amended and restated Offtake and Prepayment Agreement on completion of the optimisation process'
Of course, it's nice to know that meeting the initial shipment target is the main priority — but I suspect this is not novel news to most. But it is worth noting that the plant producing concentrates is a big positive, as is the news that when the optimisation process is completed, they will meet the 'required specification.'
The assumption is that this means SC6 — though note that the RNS does not say this, and it could simply mean a minimal grade that is acceptable to ship. Again, uncertainty.
The problem is that the plant will only meet whatever this specification is by the end of the optimisation process — which is still ongoing — and we're six days into November already.
Negatives
The problems that are preventing the plant from generating a suitable grade, and meeting that 1,000-ton shipment include:
Ore sorter issues
Instrumentation and material flow challenges
Overall plant performance
The delivery of competent grade to the plant
The first three bullet points are on STARK to resolve. While investors are probably sick of hearing information from non-official sources, I have it on very good authority that Optimum — the OEM for the UV laser sorters — are currently on site optimising the UV lasers.
And then you have STARK CEO Geoffrey Madderson's Twitter (X) posts:



There is a clearly a wide gap between what PREM has released in an RNS, and what their contractor is saying from the coal face. It's tempting to think that one is not telling the truth — but things are rarely black and white in the small cap space. Instead, it's better to simply take Madderson's words at face value:
STARK is responsible for building and handing over a functional plant that is capable of producing SC6. And they're at 50% of nameplate — or in other words — the plant can now deliver 2,000 tons per month.
But what STARK is not responsible for is the grade being fed into the plant — there is an absolute minimum grade quality that must be fed in to produce high grade spodumene — and in that last bullet point, the PREM RNS references 'the delivery of competent grade to the plant.'
And this, I think, is the crux of the matter. The plant is largely operational — with the new mill likely to be installed within the next three months, taking it up to 100% nameplate. And it is only as the plant has become operational that STARK has realised that the grade being fed in simply is not high enough, yet, to generate SC6 at the end of processing.
PREM can say that there are further optimisation challenges, which is fair. Optimisation will continue over the next few months — and it's worth noting that Madderson was also singing praises of how the UV sorters could improve the grade further than previously anticipated:

But the bottom line is the grade being fed into the plant — and I'd speculate that it's not good enough.
Where next?
A few important things to consider — this is simply my speculation, PREM remains a high-risk investment, and most investors should diversify to spread their risk.
The most important thing is this:
I am still confident (perhaps less confident, but still confident), that the initial delivery of the first circa 1,000 tons will be made. The plant has now been operating for some time — and if it's producing concentrates, could meet the 1,000-ton target if it only started producing today.
The question is what the first shipment grade will be. It's clear that it will not be SC6 — or a 5.5% grade and above. Ideally, it would at least be 4%, but the actual grade is not particularly relevant. What actually matters is how Canmax reacts to a lower-than-expected grade.
It's worth noting that Canmax representatives visited the plant last week briefly, a while after Roach's visit to their facilities in China. Unless PREM decided to pull the wool over their eyes for the sake of as few days' peace, it's likely they already know that the grade will not be SC6. And right now, the larger company is planning how to react to news it already knows is going to come out.
And this will depend entirely on what they perceive will happen to the grade in the future. At present, the plant is being fed with ore from the weathered zone, which in simple terms, is lower grade than the ore beneath it. My suspicion is that the higher grades tested from previous drilling/lab results have all come from ore beneath the weathered zone, and that PREM will need to spend time (and money) to get to the more 'competent grades.'
The problem is that SC6 prices are continuing to fall, while diesel costs remain elevated. A year ago, spodumene commanded much higher prices and diesel was much cheaper. Over the longer-term I am certain that SC6 will rise in price — and the cure for high oil prices has always been high oil prices. But for now, this puts PREM in a difficult position.
What's a Canmax to do? If the plant is fully operational within the next few weeks, and it's simply a question of getting a better grade out of the ground, then it's just time and money. Canmax still wants its product.
Then there's the UK ambassador visit to consider — Pete Vowles made a visit to the site last week as well. Is this a soft broadside that if Canmax decides to go nuclear again, that PREM still has other options?
In financial terms, PREM has the money to pay the $1.5 million if Canmax asks for it. But my hope is that Canmax takes a lower grade product, pays for it, and allows PREM to use its cash balance to get further through that ore. If December's delivery is a higher grade, and continues to improve, then all will be well.
As a closing comment, it's worth remembering that the absolute worst-case scenario has already been provided for by the amended PREM-Canmax contract. The pre-payment agreement must be settled by 1 April 2025, at which time Canmax would receive the outstanding amount of its circa $35 million pre-payment as a direct interest in Zulu based on that project valuation of $200 million.
Add in some fairly hefty interest, and Canmax would probably take on a 25% share of the project at $50 million, leaving PREM with roughly 75%. Of course, Canmax just wants its product, but it's also worth positing the buyout question. Canmax could simply choose to make a pitch for the asset based on that $200 million valuation — and given the company's position, it might be hard to say no.
What would be interesting would be if Canmax makes a Kodal-Hainan style JV pitch to PREM. This would involve PREM giving up a significant portion of the Zulu asset in exchange for a much stronger partnership, and all that would involve. Once again, PREM needs time and money, and Canmax needs spodumene.
But this time, the plant is producing.
This article has been prepared for information purposes only by Charles Archer. It does not constitute advice, and no party accepts any liability for either accuracy or for investing decisions made using the information provided.
Further, it is not intended for distribution to, or use by, any person in any country or jurisdiction where such distribution or use would be contrary to local law or regulation.