With the 10 day negotiation nearly over, can the relationship be saved? Read my view below.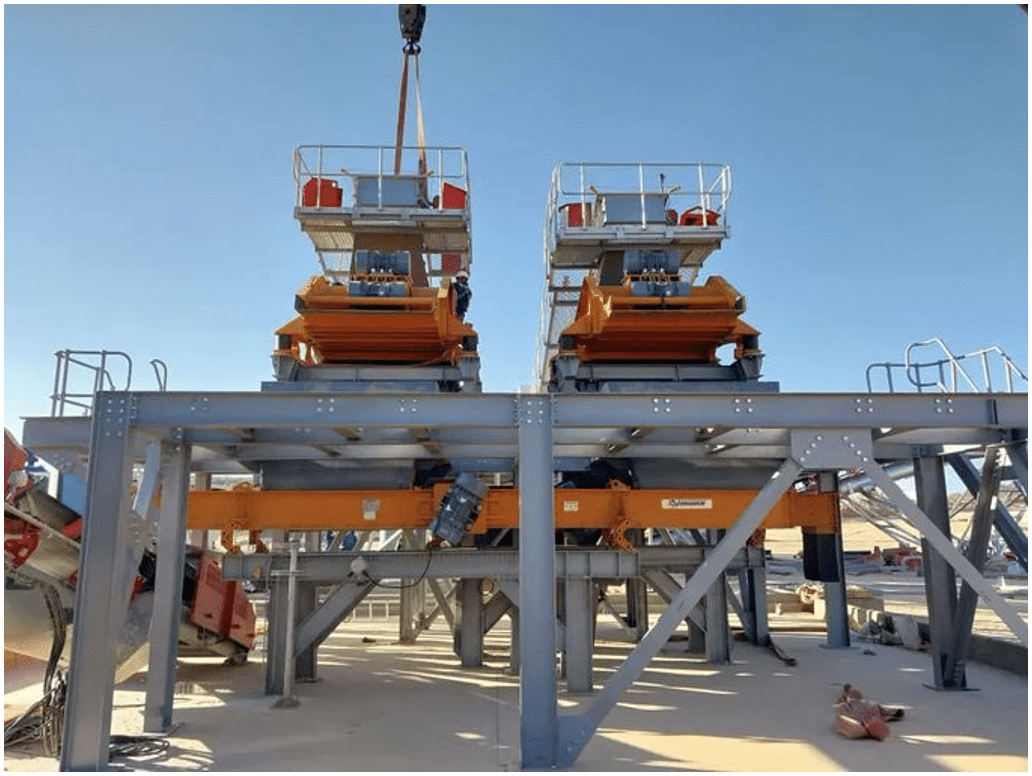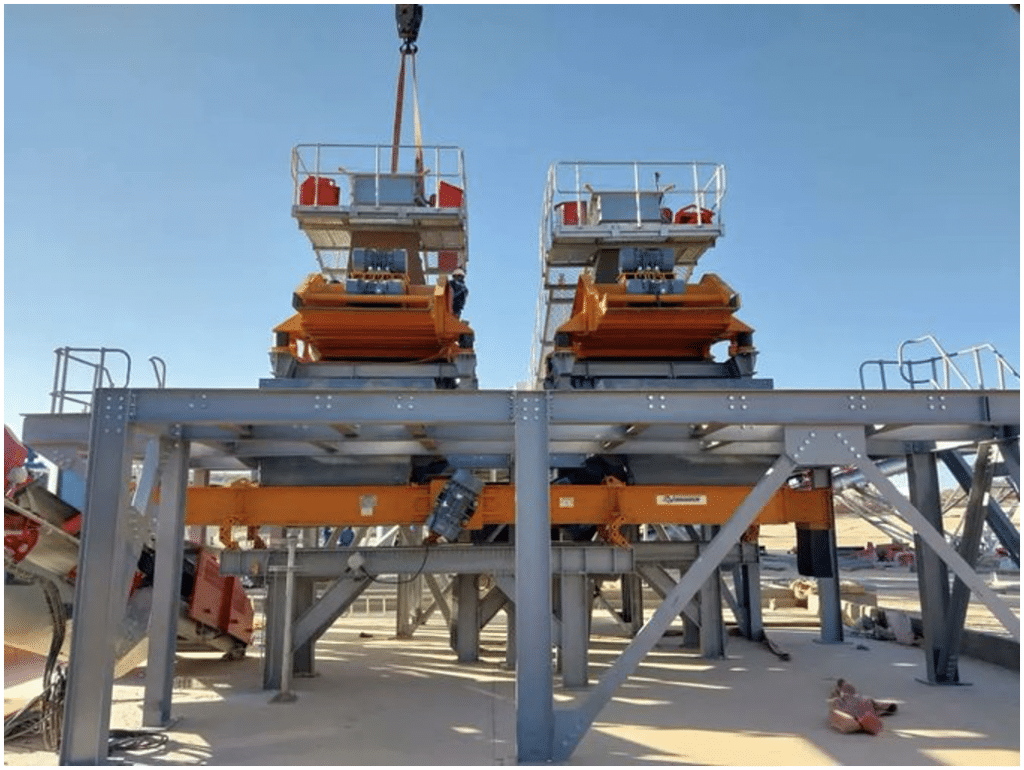 Having been about a month since I last covered PREM, there has been several developments — both positive and negative — that it may be helpful to summarise. As ever, the company remains a fascinating insight into high risk FTSE AIM investing, and Q3 2023 continues to be entertaining.
To start with, it's worth noting that despite some significant volatility — falling to as low as 0.25p and rising to as high as 0.61p over the past few weeks — the share price is essentially flat over the past month. This is indicative of market uncertainty; with Canmax, with Stark, with plant optimisation, with short-term funding, with grades…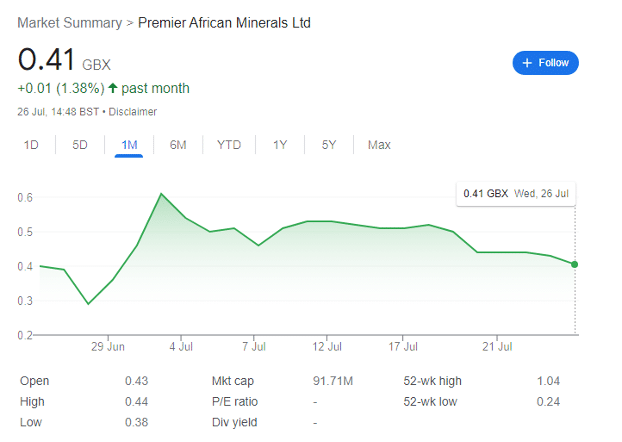 The list goes on. But this is part and parcel of investing in exploratory mining — and shouldn't be too stressful within a diversified portfolio.
Let's dive in.
PREM shares: recent updates
I'm not going to go into final results — other than to note that they were delivered in time to avoid suspension — and also to note that several legally liable people were happy to sign off on the company as a going concern over the next 12 months.
It's worth noting that this was largely due to the following statement: the Force Majeure 'will be resolved in Singapore through arbitration which is expected to take over 12 months for the matter to be both heard and adjudicated.' I don't think it would take 12 months, but this allowed the accounts to be signed off. Another fudge.
But regardless, the accounts were delivered ad the company continues.
Short-term funding
PREM raised £2.41 million in May when the stock was trading around the 0.9p-1p range. It's likely burnt through this money and until spodumene is sold, funding is tight and cash severely constrained.
But on 20 July, the lithium AIM company noted that it expects Zulu to eventually operate profitably and remains 'actively involved in alternative funding negotiations to facilitate ongoing development at Zulu and the substitution of the Agreement with Canmax.' But PREM caveated that 'there is no certainty at this time that these alternative funding arrangements will be concluded.'
Indeed, the company is seeking a redo of the request to disapply pre-emption rights that was rejected (by Canmax) at the AGM.
As an aside, Trading212's change of stance is testament to retail shareholder power when pressure is applied.
A Special General Meeting is being called for circa 12 August 2023, where shareholders are 'strongly encouraged' to vote for the resolution to give CEO George Roach the ability to create up to five billion new shares over the next 24 months — with circa 22.837 billion in circulation, this would represent a maximum dilution of 21.89%.
There are multiple ways to interpret the 5 billion figure; PREM could have asked for two billion if it wanted to fund short-term OPEX until profitability but may have asked for so much because Roach might be looking to pay off Canmax's $34.7 million pre-payment in full.
5 billion shares x 0.5p = 2.5 billion pennies = £25 million. That's $32.3 million, very close to the total amount due — and there is no interest due during the FM. There is a strong argument to be made that paying the partner off is worth the dilution and will leave the share price at roughly the same level as PREM would be in a much stronger financial position.
Of course, it could also be that new shares are needed to bring another offtake partner onboard who wishes to make an investment sufficient to fund opex until profitability. And then there's a good chance that the board simply wants extensive headroom to cover ongoing opex given the issues so far.
However, getting is vote passed may not be simple. In the original AGM, as reported on 26 June, a similar resolution asking for the disapplication of pre-emption rights was voted against, with three billion of the 3,030,360,026 votes against coming from Canmax, who 'informed the Company that they had initially voted in support of the resolution but had changed their proxy before the deadline ahead of the AGM.'
Where it gets interesting is that in both cases, the PREM had previously stated that 'your Board considers that the proposals described in this document are in the best interests of the Company and its Shareholders as a whole and your Board unanimously recommends that Shareholders vote in favour of the Resolutions.'
This matters because a Canmax representative is on the board. To change your voting intention once is business; to do it twice is bad faith and would count against it in a court deciding the veracity of the FM.
The court would be seeking to do two things; to put both parties back to where they would have been but for the FM, and also to check both acted to settle their differences outside of court to the best of their ability. If Canmax blocked PREM's ability to repay the pre-payment or even fund itself, and then Canmax went to court, this would not be a good look.
Also, the previous court case that has been bandied around regarding a similar FM precedent concerned a miner which had access to other functioning plants. This is a key detail — even though PREM's FM is still legally poor in my view, it's not helpful to point out cases that are not relevant as the facts are different.
As I understand it, the vote needs to be 75% in favour. This is a tall order, but it's not just about fundraising — it's also a litmus test of Canmax support. In the most recent raise, Canmax chose not to participate, slightly diluting its offtake rights. If they support the board this time around and buy shares in any new raise this would speak volumes.
In defence of Roach, after 'RNSing' that the company is 'exploring potential options to secure interim short-term funding from certain members of the Board,' he has issued a Director Loan — unsecured — worth £1.7 million, where Roach will sell shares for the cash as needed to be repaid in shares six months from that date.
While it can be tempting to say he is putting his money where his mouth is, it's also true that if Zulu fails, his own large PREM shareholding would become as worthless as the next shareholder's.
It's worth noting that the FM does not end until the plant gets to 100% nameplate capacity, or until the specific issues mentioned are completely fixed. The UV sorter and Hydro Sizer are in place, but the technical details are faintly irrelevant (if technically interesting) — while Stark's previous schedule was for production to start in July, it will not be 100% nameplate, and PREM expects the FM will endure for circa 14 more weeks.
The negotiation between PREM and Canmax will not be easy; the former has not delivered product due in Q1 and the latter tried to eject Roach in an underhanded manner. Canmax sent a notice of dispute to the FM on 17 July 2023, and the requisite 10 day period of 'friendly negotiation' will end on the 26th or 27th July depending on your philosophical perspective of the passage of periodicity.
Beyond the FM, it's worth noting that PREM's assertion that Canmax was proposing unacceptable terms — previously covered — may not be entirely accurate. Canmax 'disputes the Board's interpretation of their proposals' and it is entirely possible that there have been overreactions on both sides thereafter.
An underreported development is that Moti Group — owner of Pulserate, which has a 10,000 hectare lithium exploration concession in Zimbabwe and is listed as a future Canmax offtake partner — recently reported that the Chinese company with which it planned to develop a $1 billion lithium processing plant in Zimbabwe is now halving its stake in the venture.
Moti had preciously announced that it planned to have this Chinese company, described only as 'one of the largest Chinese battery manufacturers,' increase its stake in Pulserate from 20% to 70%, but it has instead chosen to cut it to 10%.
This may be more to do with the raw lithium export ban, but there is speculation this partner was Canmax — which could be positive or negative. If it is Canmax, they're either quitting Zimbabwe, or believe they are getting more Spodumene from elsewhere than previously anticipated.
Will there be a deal? On 26 July's StockBox interview, Roach noted (abridged) that:
'In my personal view we did not need to get to the stage with Canmax; I think that it's a case of inappropriate knee-jerk reactions.'
'Canmax's advice to us last week was that there clearly was a dispute and that we clearly should enter into friendly negotiations with a view to trying to resolve this.'
'An initial meeting has been held; it was extensive, and I think it was productive — subsequent to that there has been an initial set of potential proposals put on the table for evaluation.'
'There is friendly negotiation and discussion…I think that with the intention of both parties being to see this resolved…we can liquidate the prepayment as was intended, our intentions are aligned, and we are at this point where I think that there is there is a potential to resolve this.'
'Our objectives are clear; what we want to do, we want to produce and sell fairly, Canmax wants to secure product.'
In the same interview, Roach was cagey about what is happening with the plant; shareholders may be aware of rumours that it has been running for 18 hours continuously, but there's a FM to keep in place.
My hunch is that Canmax and PREM will extend the 10 day period of negotiations — and given the emphasis on product, I suspect Canmax will be asking for 100% of offtake, at below market but still profitable prices, for several years. This may not please PREM shareholders, but a compromise is never perfect.
I'll end this with similar warnings. This is not advice, and DYOR. Exploratory mining, AIM shares, lithium, and Africa are all risky ventures. Canmax could walk and try to tank the SGM vote, leaving PREM's share price in the doldrums.
But high-risk is my jam.
This article has been prepared for information purposes only by Charles Archer. It does not constitute advice, and no party accepts any liability for either accuracy or for investing decisions made using the information provided.
Further, it is not intended for distribution to, or use by, any person in any country or jurisdiction where such distribution or use would be contrary to local law or regulation.