PREM shares have been a rollercoaster experience for lithium penny stock investors. But the cart may be rising to new heights next year.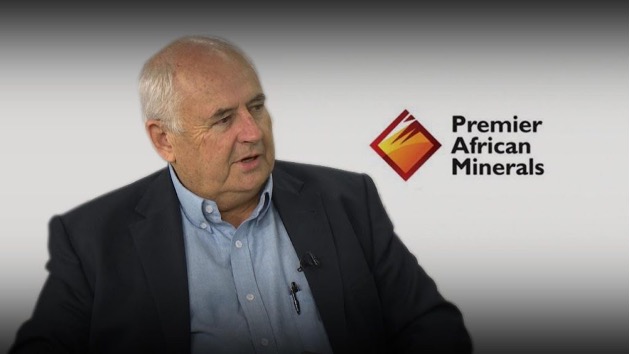 Penny stock investing in exploratory lithium mining shares is one of the most high-risk, high-reward investing strategies.
Penny stocks — in the UK, those trading under £1 a share and with a market cap under £100 million — are usually highly speculative, aren't yet generating reliable income, and have a habit of throwing unforeseeable curveballs at investors.
For example, managers of popular penny stocks often choose to issue share placements to strengthen their balance sheets, without warning, and at the expense of current shareholders.
Worse, exploratory mining shares are among the riskiest penny stocks. Poor preliminary drilling results, running out of capital, sudden political shifts, and a general lack of investor information are common problems.
And one step further, lithium penny shares are even riskier than standard penny investing. Lithium mines can take years to bring online, and the lithium quality produced often can't be completely ascertained before sizeable production is underway.
An important feature of lithium is that it is non-fungible. Spodumene (hard rock) and brine sources vary wildly, and one source of lithium cannot be easily interchanged with another in the same way as metals like gold, iron, or nickel.
For context, this partially explains why lithium cannot be traded as a commodity and is instead treated by most as a speciality chemical.
However, these beyond-average risks can come with outsized rewards for investors with patience, a high-risk attitude, and the temperament for holding through wild swings in share price value.
Indeed, these requisites mean the best penny lithium shares can usually be bought at a discount relative to their true value.
Premier African Minerals (LSE: PREM)
PREM launched its IPO in London in late 2012, boasting a sizeable 1,800-hectare tungsten mining operation, which saw the share price surge by mid-2013 on its promising potential. Two years later, PREM rose above 3p a share, after reporting it was ready to start production.
However, PREM investors were then hit with a common penny stock risk, as the mining company began issuing more shares and widening losses to capitalise on its growing reputation and to expand into lithium mining at its new Zulu lithium mine.
Then in 2019, it was hit with a second penny share risk, when Zimbabwe's National Indigenisation and Economic Empowerment Fund caused PREM's tungsten mines to cease production and sent its share price into the doldrums.
However, the near future is looking brighter. PREM is up 128% over the past year to 0.43p and now has a market cap of £95.8 million. One small increase, and it will no longer be technically classified as a penny share.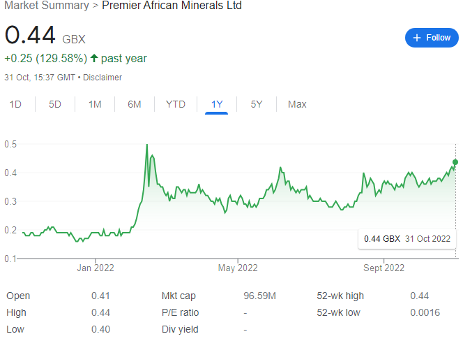 Data supporting the price increase appears sound. Premier African Minerals has interests in tungsten, manganese, and potash projects across Africa, but its crown jewel remains the Zulu Lithium and Tantalum Project in Zimbabwe.
Analysts can get bogged down on the project's minute details, but for penny investors, there are six core criteria worth investigating.
Six tailwinds for PREM
First, lithium is skyrocketing in value, having doubled year-to-date to a record 564,500Yuan/tonne in China. With global demand far outstripping supply, further price rises could already be baked in.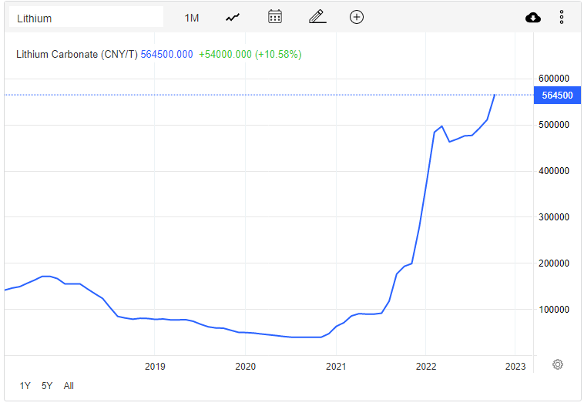 Second, PREM has a 100% interest in the Zulu project, which could be the largest undeveloped lithium mine in Zimbabwe. The country already has some of the largest proven hard rock lithium reserves in the world. And further development potential is immense, given the immense size of the project.
Third, unlike many other exploratory lithium mining companies, PREM CEO George Roach is confident both in the recently reported assay results, and in his expectation that the pilot plant is 'on target for hot commissioning in Q1 of 2023.' That means revenue will be coming online soon.
Fourth, Roach has confirmed that Suzhou TA&A Ultra Clean Technology Company has signed an offtake deal with PREM, with its first shipment planned for March 2023. Suzhou has already injected $35 million into the pilot plant, and PREM now plans to ramp production up to 48,000 tonnes of spodumene concentrate annually.
Fifth, Suzhou has increased its shareholding to 13.38%, while Roach holds 7.1% of PREM's float. Institutional and management skin in the game is always an encouraging sign. Suzhou plans to use PREM's spodumene to supply Yibin Tianyi, China's leading lithium chemicals producer, which it owns jointly with CATL, the world's largest EV battery maker. Suzhou has a strong history of shrewd lithium investments, including in Mineral Resources and AVZ Minerals.
Finally, Suzhou's holding makes it likely that a complete buyout could be in the offing, dependent on successful initial deliveries. This could come with a higher-than-usual premium, given the current interest.
2023 could be the year PREM finally delivers for investors. Of course, it remains a high-risk, potentially volatile play that is not for the faint-hearted.
This article has been prepared for information purposes only by Charles Archer. It does not constitute advice, and no party accepts any liability for either accuracy or for investing decisions made using the information provided.
Further, it is not intended for distribution to, or use by, any person in any country or jurisdiction where such distribution or use would be contrary to local law or regulation.