GROC shares have fallen by more than 50% since the FTSE AIM company's IPO in mid-2021. Is it time to buy the dip?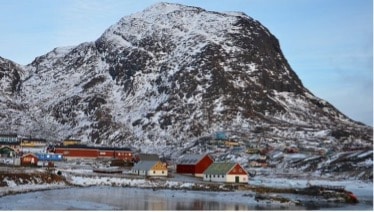 GreenRoc Mining (LON: GROC) is one of a handful of London-listed graphite stocks targeting strong growth for 2023 and beyond. The miner operates exclusively in Greenland, where its flagship Amitsoq Graphite Project is inching ever closer to production.
The company hopes to emerge as a key supplier of critical minerals, most importantly high-grade graphite to the European and North American markets. I've covered the bull case for graphite here, but for context, the critical mineral could well see a similar price explosion in 2023 as was seen with lithium in 2022.
For this piece, I contacted CEO Stefan Bernstein who kindly offered to answer a few queries to help me to get a better understanding of the wider investment picture; his comments in full are included below.
GreenRoc Mining: portfolio in brief
GreenRoc owns four projects, three of which are located fairly close to each other in Northern Greenland.
First is Thule Black Sands, a project which covers a 10km stretch of coastline boasting an initial Mineral Resource of 19Mt@ 43.6% Total Heavy Minerals with an in-situ ilmenite grade of 8.9%. GROC calculates this would be sufficient to sustain a decade-long mine life at a rate of 1.5 million tonnes per annum (tpa).
Second is the Melville Bay Iron Ore Project, with a Mineral Resource Estimate of 67Mt at 31.4% iron, which has been proven to be processable to a high-grade 70% concentrate. GROC also owns the historic Inglefield Multi-Element Project, where previous exploration has shown the presence of copper, gold, vanadium, and nickel.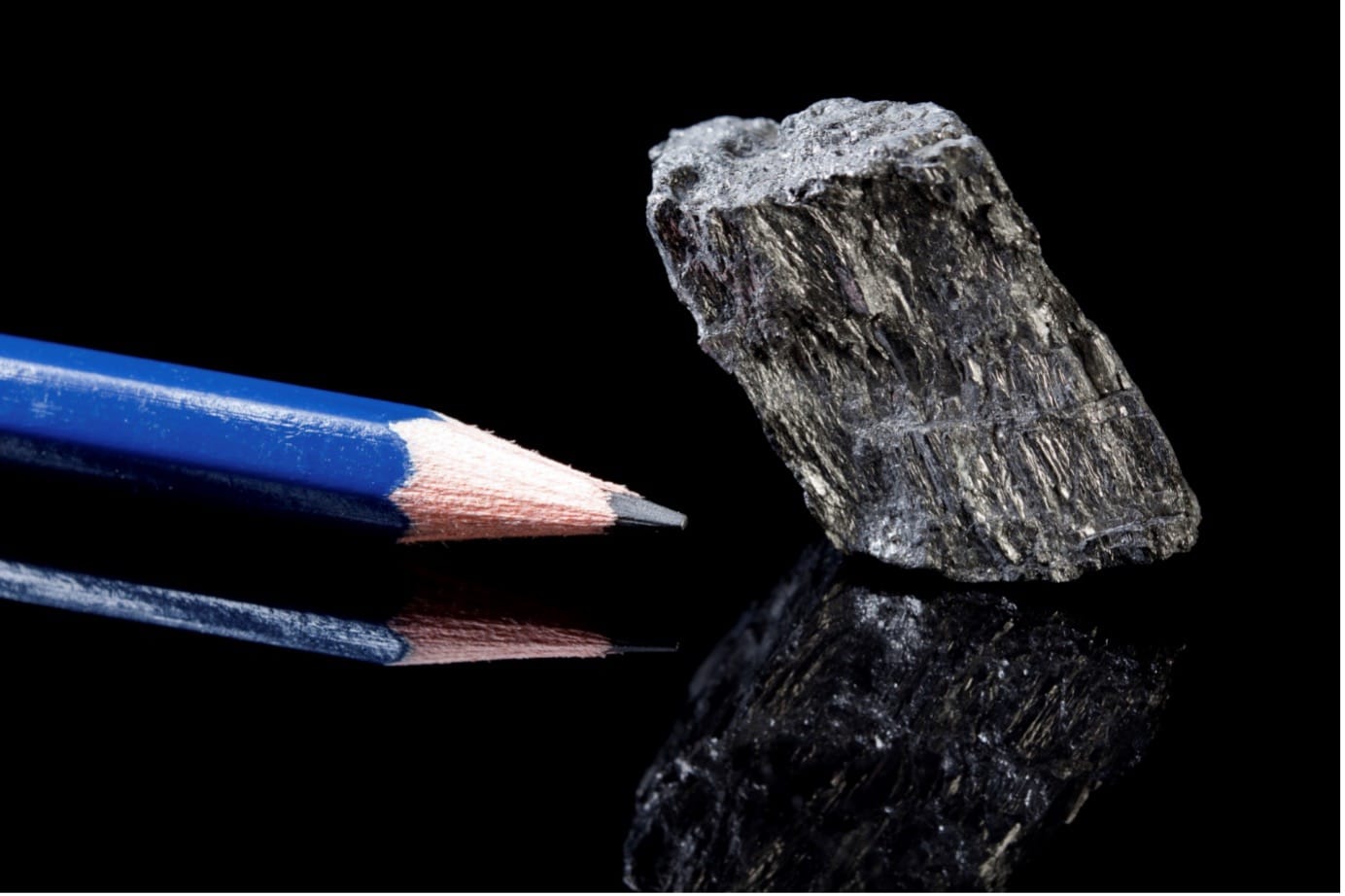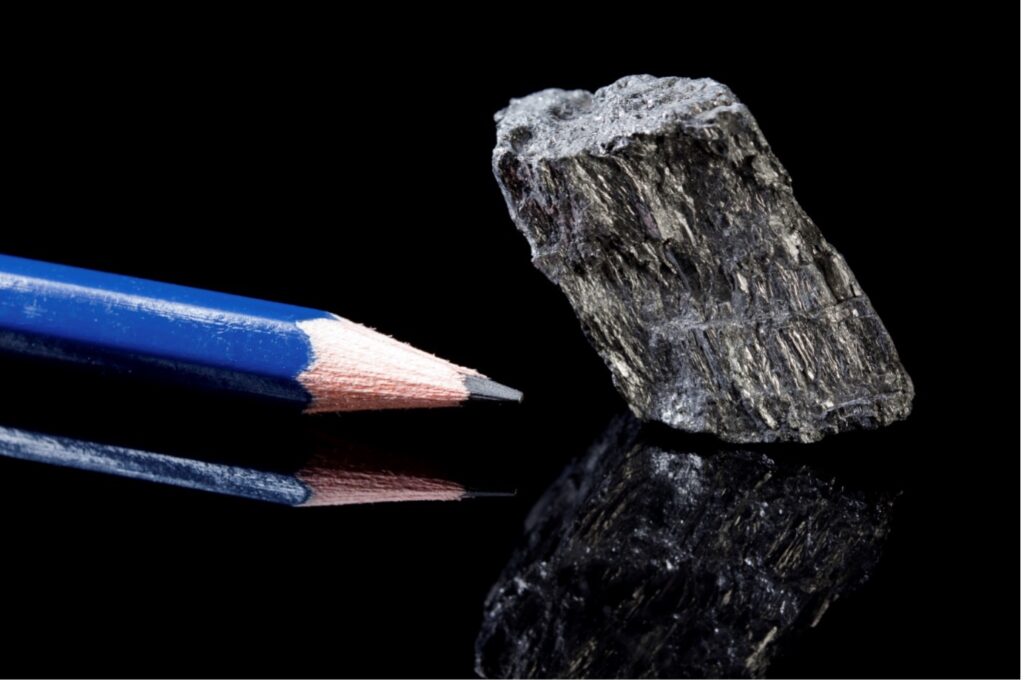 These are by no means bad assets to have on the books.
But investor focus is rightly on the Amitsoq Graphite Project in the South of the country. Originally boasting a JORC resource of 8.28Mt ore at an average grade of 19.75% graphite, independent test work has confirmed that the deposit's graphite can be upgraded to >99.95% purity and can be processed into spherical graphite, the key ingredient in lithium-ion batteries found in EVs and most battery-powered items. GROC has been updating investors about the project's progress at regular intervals through 2022.
For context, this makes the circa £5 million company the owner of a world-class graphite resource.
Moreover, GreenRoc argues that given 'the consistency of the very high graphite grades in both of the LGL and UGL ore bodies coupled with their simple architecture…mine planning and the mining operations (are) relatively simple and straightforward from a mining-technical viewpoint and with a minimum of waste rock produced.'
For clarification (and this is a mistake I've seen made more than once), the Amitsoq project includes not only the maiden resource at Amitsoq Island, but also a second resource at Kalaaq to the south of the island. The FTSE AIM company is also exploring under licence a potential southernly extension to Kalaaq.
In its most recent update on 22 December, GreenRoc announced that the full set of drill core assay results from the 2022 Phase Two drilling programme had officially confirmed consistently high-grade graphite intersections within the Amitsoq Island Deposit and the presence of significant mineable widths.
Technical details can be viewed on LSE, but for perspective the resource was upgraded; Bernstein enthused 'grades of both the UGL and LGL ore bodies at the 20% graphite mark… thicknesses and footprint of the LGL in particular, the consistency of high-grade graphite is excellent.' The LGL ore body saw the highest grade, at a whopping 24.53 C(g)% for one full intersection of 6.89m thickness.
Investors are now waiting for this new resource assessment to be independently validated, with an update due this month.
Management and ownership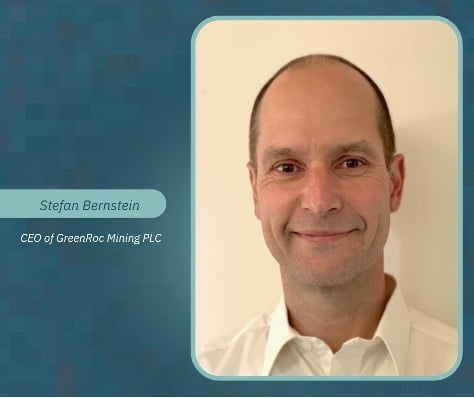 Bernstein was appointed as CEO in mid-2022, a stellar choice given his 30 years of geology experience within Greenland's mining sector in both corporate and government advisory roles.
Most favourably, the CEO previously worked at GEUS, the Danish and Greenlandic Geological Survey responsible for supporting the sustainable exploitation of raw materials in Greenland, where he held the position of Head of the Mapping and Mineral Resources Department for six years.
A common — though not particularly fair concern — among investors is GROC's asset locations in Greenland, as the country still relies on budget subsidies from former colonial master Denmark and has seen widespread protests over the development of the Kvanefjeld mine.
However, Bernstein counters that over the longer-term, 'all major exploration and mining activities over the past 30 years have seen minimal opposition' in Greenland, with a general 'genuine interest in seeing activity in the mining sector, from politicians, to administrators to local population.'
In addition, he argues that its location is not a 'hindrance to project development,' instead advocating that its proximity to western markets gives it a 'strategic advantage' as demand for ex-China spherical graphite grows.
Encouragingly, the company is 'planning on building a processing plant in Europe to produce spherical graphite for EV battery anodes' derived from Amitsoq graphite concentrate, and Bernstein believes that an above-market price may be secured from car makers and battery manufacturers 'marketing with high ESG profiles.'
GreenRoc has been majority-owned by parent Alba Mineral Resources since launching its FTSE AIM IPO in September 2021, and Alba still holds an 50.59% interest. Its other two significant backers are Kadupul Ltd which holds 17.71%, and Monecor Ltd with 6.93%. This leaves just over 30% of available shares available for public trading, which does increase the day-to-day volatility.
For those considering a potential discrepancy between Alba Minerals and GROC's market caps, Bernstein notes that Alba also has '100% owned UK gold assets and its minority holding in a producing UK oil field.'
Finances and placing
The most recent numbers available for GROC come from interim results released on 10 August, covering the six months to 31 May 2022. The company made a loss after tax of £484,000, an increase from the £306,000 lost in the prior half. At the time, the company held £1.8 million in cash, with a net cash outflow of £1.5 million.
These are fairly normal figures for an explorer gearing up for production.
On 9 December, the company issued 7 million new shares at a 13.5% discount on the previous day's close, raising an additional £315,000 of capital. Encouragingly, Bernstein subscribed for £36,000 of the placing, with all proceeds to be used to continue to develop Amitsoq.
At the time, the CEO noted that he is 'focused on fast-tracking this world-class project into production… 2023 is shaping up to be a significant year for GreenRoc, with an improved resource update expected at Amitsoq early in the New Year and a number of workstreams due to be completed.'
Share price movement
GreenRoc launched its IPO at 10p per share in September 2021, but shares have now fallen to 4.5p apiece. While some of this price movement can be explained by placings, volatility should be expected when trading the FTSE AIM company; for context, it was worth 5.4p on 2 December and just 4p on 18 November.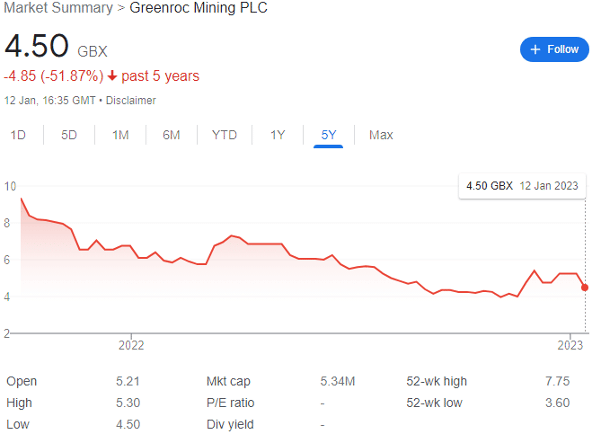 Bernstein now believes that GreenRoc is 'heavily undervalued,' given the 'strong value fundamentals.' These include the overarching graphite supply gap — again, covered in detail extensively both here and elsewhere — and the 'truly world class' Amitsoq project that he predicts 'may well be the best deposit in the European realm.'
I put it to him that the widely predicted global recession could dent graphite prices over the short term, but he counters (in fair fashion) that 'the demand towards 2035 will require nearly 100 new graphite mines,' and that 'only a handful of mines are under development in Europe' leaving the longer-term bull case intact.
Further, he believes that with 'a world class high-grade graphite deposit under development, which is being rapidly advanced to become a producing mine in the shortest time span,' a 'significant value re-rate' could be on the cards for 2023.
It's hard to disagree.
For clarity and context: GreenRoc CEO Stefan Bernstein's Q&A in full
Please note, this Q&A covers several of the common questions investors have about GreenRoc, so to some extent I am playing the 'Devil's Advocate.'
All data and additional information has been sourced directly from the official Regulatory News Service (RNS) of the London Stock Exchange.
This article has been prepared for information purposes only by Charles Archer. It does not constitute advice, and no party accepts any liability for either accuracy or for investing decisions made using the information provided.
Further, it is not intended for distribution to, or use by, any person in any country or jurisdiction where such distribution or use would be contrary to local law or regulation.
1. GROC is London-listed. However, its operations are in Greenland, which is a North America-based autonomous country within the Kingdom of Denmark. Do you anticipate any regulatory hurdles given competing political interests over Greenland's critical minerals as operations come online?
Greenland has full autonomy over its natural resources and while there may well be competing interests as you say, from Europe and America, I do not see those being or becoming a hindrance to project development, as longs as investments in given projects are not coming from countries in strategic opposition to the West. Conversely, I think Greenland's location gives in-country project development a strategic advantage, with the ability to support both North American and European markets. Taking spherical graphite as an example, which is a key raw material in the manufacturing of batteries for electric vehicles, it is presently only produced in China and with demand outstripping supply there is critical need for new projects to come on stream. Our Amitsoq Project in Greenland has the resources to be one such project and with its more proximal location to European and North American markets brings clear environmental and cost advantages.
2. Much of Greenland's local population remain vehemently opposed to mining development. Have you considered the risks associated with developing mines in a country where a political shift could see that investment thwarted at short notice? (I'm aware this is not unique to Greenland).
With due respect, I consider the statement to be false. I have been working with Greenland's geology and minerals industry for over 35 years, both in government positions and within the wider industry, and I can say that generally there is a genuine interest in seeing activity in the mining sector, from politicians, to administrators to local population. Apart from one single project – and that has its own special reasons for trouble – all major exploration and mining activities over the past 30 years have seen minimal opposition. Greenland is a well-regulated country and I have no doubt that we, following all the regulations during development of our projects, will receive an exploitation permit in due time.
3. GreenRoc shares are down circa 45% since the company launched its IPO. I view this as a dip-buying opportunity for position investors, but do you think the company is about to turn the corner in terms of investor returns?
I think we are heavily undervalued and whilst I naturally cannot control the share price, I am firmly focussed on proving the strong value fundamentals of our company. I have several reasons to believe that our share price will improve in the coming time – one being that graphite is seen by many analysts to be the next lithium, with serious deficit in supply building up over the coming years. In addition, our Amitsoq graphite deposit is proving itself to be truly world class and may well be the best deposit in the European realm. We have already proven it to be one of the highest grades globally and now we are poised to unlock its resource size and significant commercial value.
4. Alba Minerals has a market cap of £6.9 million and owns over 50% of GROC's shares, which itself has a market cap of £6.2 million. This looks like a mismatch to me (unless I've missed something). How would you reconcile these valuations?
Alma has other assets with significant value on its balance sheet, namely its 100% owned UK gold assets and its minority holding in a producing UK oil field, so there is no real mismatch.
5. Much has been made of the critical minerals gap — but a global recession in 2023 could also send commodity prices falling in the near-term. What's your view on the diametrically opposed supply gap-demand destruction relationship, and how could this affect GROC over the medium term?
This is a good point but given the demand towards 2035 will require nearly 100 new graphite mines (each of 50kt annual graphite production, according to BMI, Autumn 2022) and that we will be in production in 2027, the near-mid term uncertainties don't worry us too much. It is also important to remember that only a handful of mines are under development in Europe at the moment and we believe that domestically sourced, responsibly mined graphite has a strong competitive advantage within the European/N American market, especially when considering the fraction of shipping costs from source to customer compared to China or even Africa.
6. Given the reduction of globalisation over 2022 and in particular the desire among western states to diversify supply chains away from dependence on China, do you think GROC's position as a London-listed miner with graphite deposits in the west means that offtake partners may consider paying 'above-the-odds' for security of supply? Are there any plans to build graphene processing plants at the company over the longer term?
Several car makers and battery manufacturers are already marketing with high ESG profiles, so my answer is a yes. We are also considering, or perhaps I should say planning, on building a processing plant in Europe to produce spherical graphite for EV battery anodes, directly from our Amitsoq graphite concentrate.
7. What's the key reason why investors should consider adding GROC shares to their portfolios, and what's the 'crown jewel' in its portfolio in your opinion?
GreenRoc is poised for growth, and I believe a significant value re-rate. We have a world class high-grade graphite deposit under development, which is being rapidly advanced to become a producing mine in the shortest time span. With unprecedented demand from the battery market in Europe and North America, there is a clear need for quality graphite of Amitsoq's kind and scale, together with its advantageous geographic location. We are committed to delivering on this significant opportunity.