Hummingbird is looking undervalued — but the investment case is more complex than first appears.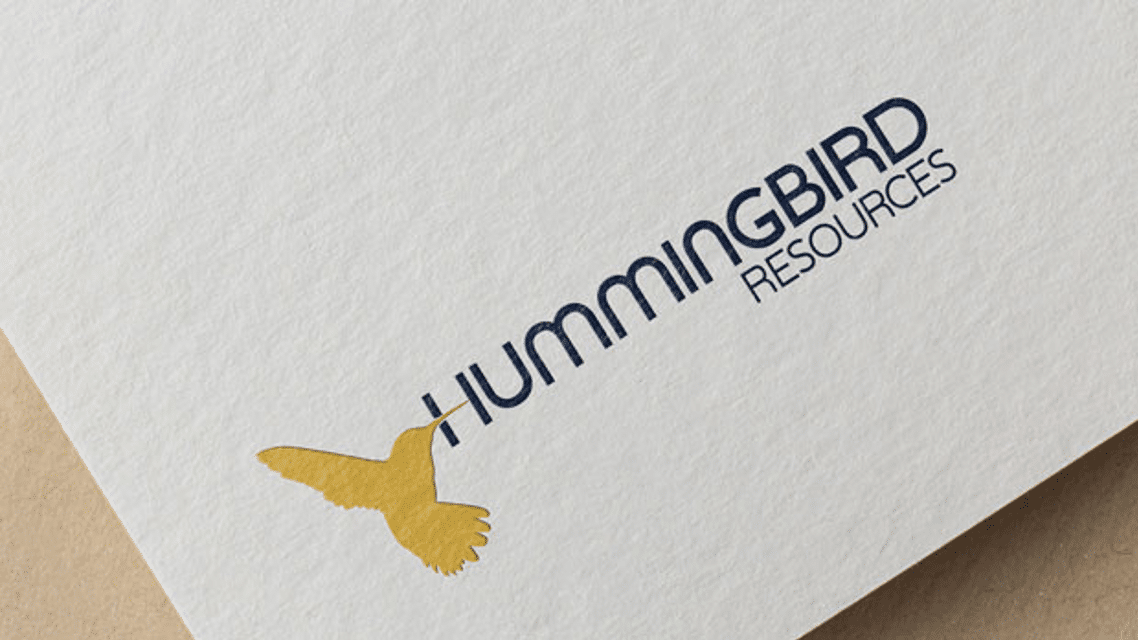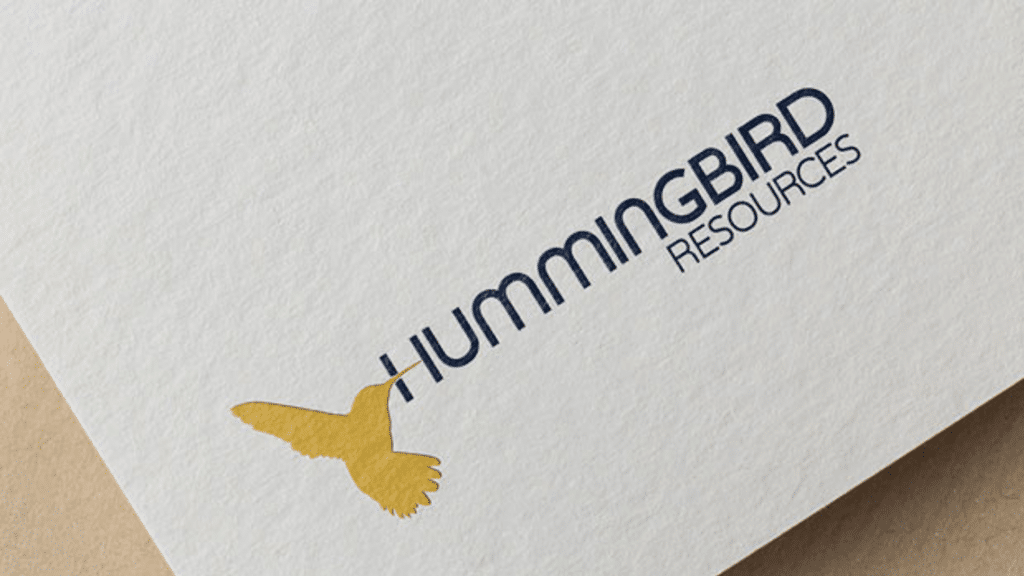 Hummingbird Resources released its Q2 2023 trading update fairly recently, and the company now seems to be in a position to properly start scaling up at its assets.
Up circa 78% year-to-date, the £75 million gold producer has seen its debt rise — but this could melt away as the gold price remains close to a record high, and production increases.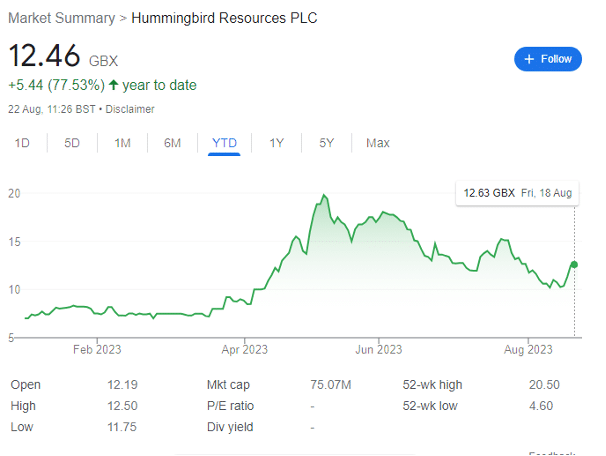 Let's dive in.
Hummingbird Resources: investment case
Q2 results (to 30 June 2023) gave some excellent insight into the FTSE AIM company.
Key financial highlights (approximated figures) include:
AISC of $1,234 per oz for Q2-2023, an 11% increase quarter-on-quarter — driven by additional open pit mining activities. However, this was 34% lower than a year ago, and the company predicts that AISC for H2-2023 will remain within guidance and below $1,500 per ounce.
Capex was $16 million in the quarter, including $12 million on completing the Kouroussa project and the remainder on expansion in Mali. Capex is expected to fall sharply with Kouroussa completed.
The company sold 24,770 oz of gold during H1 2023 at an average realized price of $1,981 per oz.
Adjusted EBITDA was $15.5 million, a huge improvement compared to the -$2.3 million in the same quarter last year.
Net debt came in at a hefty $122.8 million, with $5.8 million of cash at hand and gold inventory of $3.5 million.
This level of debt for a £75 million company is the primary concern, but with the major outlay now concluded, the position should now start to improve with each quarter.
For context, the company plans to provide an updated group FY23 production outlook in the forthcoming Q3 operating and trading update, which amongst other things will consider the progress of Kouroussa toward steady state production.
Yanfolila, Mali
Q2 gold production rose by 19% year-over-year to 23,885 oz, H1 saw a 44% rise to 51,147 oz.
Rolling 12-month average LTIFR of 0.87 per million hours worked, showcasing a strong commitment to maintaining a safe working environment.
Gold production remained strong, with 23,885 oz produced during Q2-2023 and a cumulative H1-2023 production of 51,147 oz. These results position the Yanfolila operation well to achieve its full-year production guidance.
Mining activities during the quarter saw a reduction in bottom-of-pit mining, leading to a decrease in mined BCMs to 592,360 tonnes. Nonetheless, ore processing remained robust, totalling 364,459 tonnes for the quarter.
The operation's focus on ore grade and processing recovery is self-evident: the achieved average grade mill feed was 2.21 grammes a tonne and the processing plant has a recovery rate of 94.1%.
The successful completion of mining at the KE open pit allowed for increased advancement of the Komana East underground mine, with further acceleration anticipated in H2 2023. Further, mining commenced at the Sanioumale East open pit deposit during Q2, well ahead of schedule.
Hummingbird resumed resource extension drilling activities during the quarter, focusing on brownfield deposits within the license area. Notably, drilling efforts concentrated on the SW and Gonka South deposits.
The objective of the SW drilling campaign is to explore mineralisation along the north-east and south-west strike zones, while the GS Resource upgrade drilling has been completed, with investors waiting for assay results for further analysis.
Beyond this, Hummingbird anticipates an acceleration of this exploration drilling during the course of H2 at Yanfolila. This will include near-pit opportunities and further exploration of historical resources, with a primary emphasis on increasing resources at known deposits and contributing to the expansion of Yanfolila's total reserves.
Kouroussa, Guinea
Kouroussa achieved its first gold pour on 8 June 2023, ahead of schedule, and successfully started regular gold pours in July.
Processing plant availability hit 68%, highlighting progress to achieving full state operation.
Full state production should be achieved in Q4 2023, with an estimated production of approximately 30,000 oz for H2-2023.
Rolling 12-month LTIFR of 0.40 per million hours worked, again highlighting the company's safe operations.
ROM stockpiles totalling 120,000 tonnes by the end of Q2. This material was sourced from the initial low-grade layer of the KoeKoe open pit (in other words, don't get too excited just yet).
Ongoing company plans are to see a gradual improvement in the mill feed grade profile as mining progresses, allowing access to the deeper, higher-grade ore for processing. It's worth noting that there are the usual concerns around wet weather operation through the rainy season, alongside optimising the new mine camp.
But in the end analysis, Hummingbird has now has plans encompassing various targets within the existing mining license area, with a specific focus on increasing the reserves base of Kouroussa, which currently stands at 647,000 oz at an average grade of 4.15 g/t.
This second project will likely only increase in value.
Dugbe, Liberia
The strategic evaluation of the Dugbe Project remains a focal point for Hummingbird. Collaborating with its joint venture partner Pasofino, the company is actively exploring options to maximize the value of the project.
However, this is a longer-term potential catalyst — most investors are concentrating on the core assets.
CEO commentary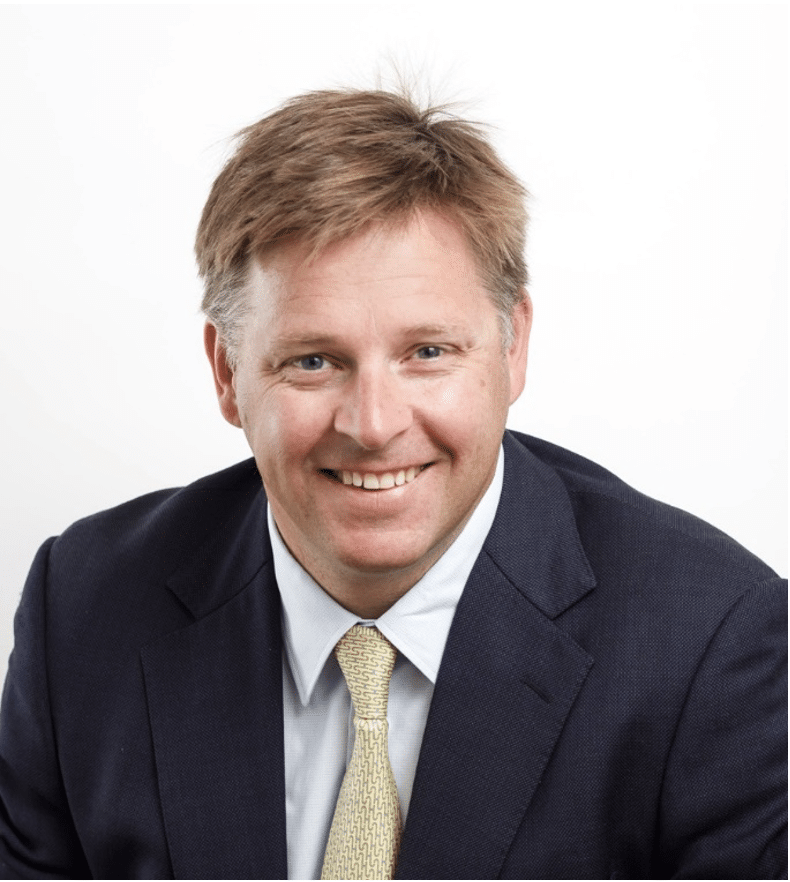 CEO Dan Betts (great name for an AIM operator) enthuses that:
'Yanfolila is performing more in alignment with our mine plans, providing better consistency for the Group, and our first gold pour at Kouroussa in June, currently in the ramp up production phase, is a major milestone, making the Company a multi-asset, multi-jurisdiction gold producer… our key focus for the coming months and the second half of the year is to fully ramp up production safely at Kouroussa to reach steady state production and to continue to demonstrate stable quarterly production at Yanfolila, generating solid free cashflows from both assets that strengthen our balance sheet.'
I would note that this focus on strengthening the balance sheet is important given the debt position.
Closing comments Hummingbird is now a multi-jurisdictional producer, de-risking it to some degree. For context, recent changes to Mali's mining code have highlighted how an investment case can change relatively rapidly — this is Africa, after all.
But while the debt is large, it is manageable — when gold is involved, creditors tend to be quite understanding. And increasing production at Yanfolia and the rising importance of Kouroussa means that the current dip over the past month could be a decent opportunity before the next positive news hits.
This article has been prepared for information purposes only by Charles Archer. It does not constitute advice, and no party accepts any liability for either accuracy or for investing decisions made using the information provided.
Further, it is not intended for distribution to, or use by, any person in any country or jurisdiction where such distribution or use would be contrary to local law or regulation.