Amaroq Minerals (LON: AMRQ) shares were changing hands for circa 41p in mid-May when I last covered the gold explorer, interviewing Edward Wyvill, Head of Corporate Development and IR.
The stock has now shot up to over 56p, driven by solid Q2 results, excellent long-term financing announcements, and general optimism for its flagship project's prospects.
Before starting this piece, I'd advise reading through this interview as a primer. Because while the stock has risen sharply, I think there could be much further to go.
Let's dive in.
Amaroq Minerals: funding sorted
Q2 results, released on 29 August, were almost exclusively positive — and they started with the key information — initial construction activities are now underway at Nalunaq.
But first, to finances. AMRQ now seems very well funded, with the gold business holding working capital of $41 million at the end of June. And it held $46.7 million at the end of March, implying a monthly cash burn of just under $2 million. In the strategic minerals business, the company has $29.3 million of liquidity, after completing the GCAM JV in April.
As previously noted, the company is continuing with preparations to upgrade its Icelandic listing to the Nasdaq Main Market – with all the investment advantages I've gone into previously.
On 1 September, AMRQ also secured the March-proposed $50.9 million senior secured debt funding package, comprised of:
$18.5 million senior debt term loans pursuant to revolving credit facilities provided by Landsbankinn hf. and Fossar Investment Bank.
$22.4 million of convertible notes, with $16 million of these issued to ECAM LP, $4 million issued to JLE Property, and $2.4 million to Livermore Partners LLC.
an overrun loan from JLE Property of up to $10 million under a revolving credit facility.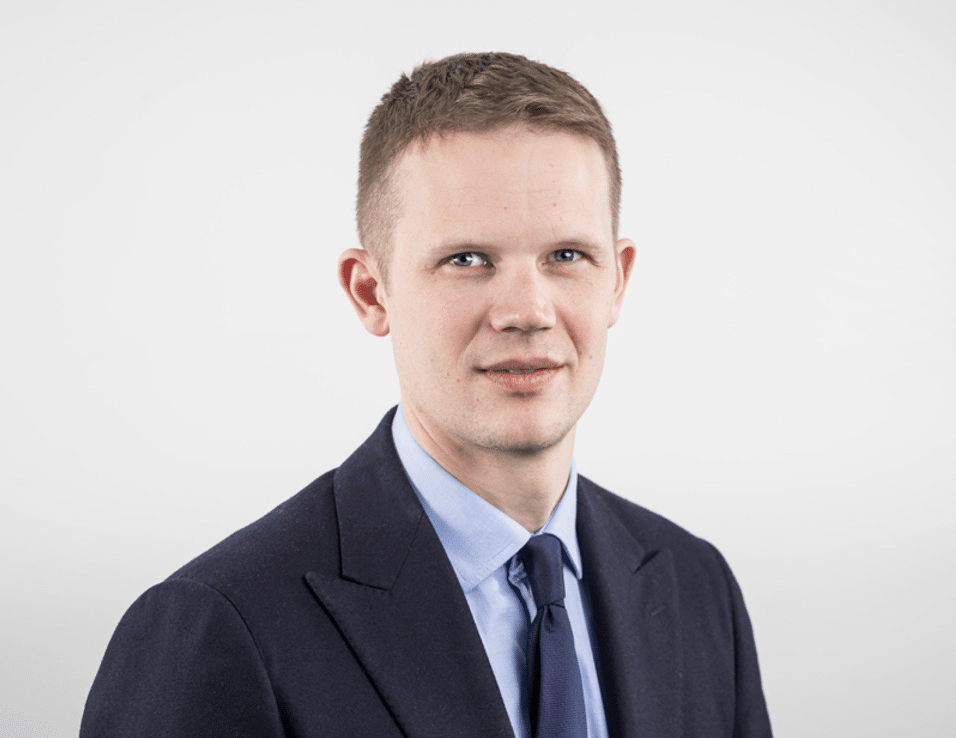 Founder and CEO Eldur Olafsson enthuses that the package 'marks a further milestone for Amaroq Minerals, enabling the transition to staged, full scale production at the Nalunaq gold project.'
While the interest terms of the funding are available on the RNS service, they do not appear too onerous — with the proceeds to be 'used to fund the transition of the Company's Nalunaq mining licence from a bulk sample trial mining development plan to staged, full scale production of gold doré on site by bringing forward construction of a processing plant and associated infrastructure.'
Q2 operational highlights
Amaroq emphasized several operational highlights concerning the flagship:
The Environmental Impact Assessment and Social Impact Assessment for Nalunaq are being translated, ahead of a public consultation later this year.
Key contracting processes for the processing plant, infrastructure, and construction, as well as underground mine rehabilitation and mining, were 60% complete at the end of Q2 2023.
Processing plant engineering, and preparations for its construction were 70% complete at the end of Q2 2023. Components for the processing plant are being mobilised to ship to Greenland.
The company commenced pad building and Nalunaq camp expansion and upgrade activities in Q2.
Mine design and inspection took place in Q3, along with the procurement of long lead items.
It completed 1,735m resource drilling at Nalunaq from six drillholes targeting resource expansion areas directly up dip from the proposed mining area of the Mountain Block.
Importantly, the company highlighted that 'the project is progressing on budget and to schedule,' and it expects to 'provide a fuller update on the Nalunaq project later this year.' Specifically, this will include the results of the drilling campaign.
And by the end of Q3, the company anticipates:
key contracting processes to be 80% complete.
engineering for the processing plant to be 75% complete.
construction to be 20% complete, with the processing plant's main structure starting to be built.
Further, Amaroq considers that the necessary equipment and personnel to restore the Nalunaq Mine access portals and ramp will be on-site this quarter, with work set to begin in Q4. And the all-weather base camp will be upgraded to accommodate 88 people, up from the current 50, by the end of the year.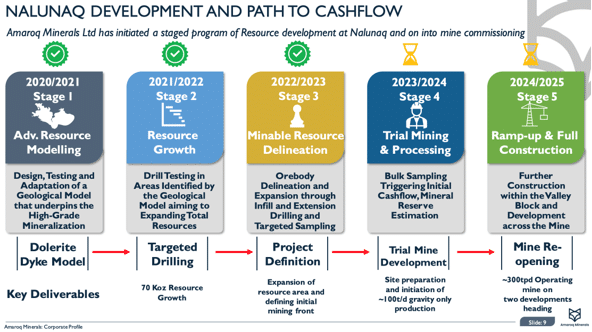 Olafsson has informed investors that 'our programme is progressing on plan and to budget, with rehabilitation works due to commence shortly, and first gold production anticipated next year.' This first production will come from the promising Mountain Block — the plan is to deliver ore from a mining trial in Q1, before first gold production no later than the end of H2 2024.
As a caveat, these things always tend to overrun (though happily there's a $10 million overrun loan to cover this eventuality). In fact, it's best as an investor to add three months to these timelines and be pleasantly surprised if the originals are achieved.
Interestingly, it's likely that the company will consider using ore sorting technology during the trial mining (stage 4) process. Based on an overview of results so far (and remember I'm a financial analyst and not a metallurgist, mineral processing engineer or similar) much of the host gold is held in a main quartz vein with an average thickness of 0.7m, within a shear structure.
Assuming AMRQ uses a bulk underground mining style similar to the previous operator, this will generate large amounts of waste — but a combination of XRT sorting and potentially UV laser tech could reduce this waste and improve overall profitability. This would require a basic amenability study, but I expect this will be tied into stage 4 at some point during H1 next year.
In terms of exploration, it's also worth noting that ALS Goldspot is leading a review into the prior 2022 geophysical survey to refine the gold targets at Nanoq, before further surface exploration and drilling next year. At Vagar Ridge, Amaroq is creating a robust geological and mineralisation model, with a view to prepare for drill readiness in 2024.
Strategic Minerals Portfolio updates
While not near-term catalysts (though all things mining are subjective), Amaroq also boasts 51% ownership of several important strategic minerals projects. The most recent updates are:
Sava Copper Belt (Sava/North Sava)
New exploration camp constructed for 20 people.
Two drill rigs mobilized for exploration.
Currently conducting scout drilling at two targets: Target West and Target North.
Identified additional high-priority exploration targets within the copper belt.
Collaborating with external porphyry and Iron Oxide Copper Gold specialists.
Ongoing scout drilling in Sava expected to continue through Q3 with results anticipated in Q4.
Drilling at Target West aims to find porphyry-style mineralization with ore-grade copper and molybdenum.
Focus on a 2km-long strike of epithermal-style mineralization hosting Cu/Au results from 2022.
Planning a gravity geophysical survey over the Sava license area to cover the entire copper belt prospect.
Stendalen
Completed a high-resolution Magnetotellurics geophysical survey over the host intrusion.
Targeting potential Ni/Cu sulphides similar to Voisey's Bay.
Reviewing detailed 3D inversion models for targeting.
Aiming to intersect three potential orebodies:
Ti/V layering in the upper regions of the intrusion.
Potential Platinum Group Metal (PGM) mineralization within the layered sequence.
Potential Ni/Cu sulphide mineralization at depth and in contract areas similar to Voisey's Bay.
At Kobberminebugt, the company has completed a high-resolution MT survey over the entire license area, with results expected in this quarter. And at Paatasoq, it's conducted reconnaissance exploration over the license area, collaborating with the University of St Andrews to assess Rare Earth Elements and critical metal potential. Full results of this exploration are anticipated by the end of the year.
The CEO advises that 'exploration activities within our strategic minerals JV are ramping up, most notably across the Sava Copper Belt, where we have established a new 20-person camp and are commencing drilling at our first target, as we look to improve our understanding of this emerging high potential resource.'
The Bottom Line
Amaroq is funded. The company is on target to achieve first gold production at an exceptionally prospective resource next year, and even after the share price rise, the company is looking cheap. In an era of high interest rates and falling liquidity, it's sourced favourable funding from key players — and it's staffed by some of the best names in the industry.
Like so many of the best opportunities in the gold space, the London market is seemingly asleep to the opportunity.
But with the Icelandic exchange upgrade, Q1 mining trial, masses of exploratory results to come in the near future, and first production targeted for H2 2024, this might not last long.
This article has been prepared for information purposes only by Charles Archer. It does not constitute advice, and no party accepts any liability for either accuracy or for investing decisions made using the information provided.
Further, it is not intended for distribution to, or use by, any person in any country or jurisdiction where such distribution or use would be contrary to local law or regulation.