First Class Metals is expanding its exploration activities. A long road up the jagged share price mountain awaits.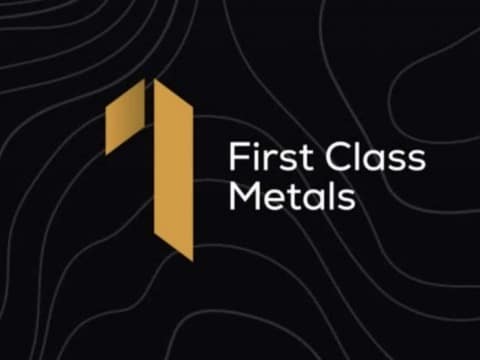 First Class Metals (LON: FCM) shares have dipped slightly in 2023, down 13% year-to-date, and at 12.5p, a full 5p short of their record 17.25p of late December.
I had the fortune of interviewing the chair of the critical minerals and precious metals explorer slightly before the company reached this record high, and also note that FCM has since received the UK Investor Magazine IPO of 2022 award.
And now there is renewed interest in the company as it has released multiple bullish RNS's, including news that fellow long-time Premier African Minerals backer James Goozee has invested £300,000 at 16p per share in a strong show of confidence in the long-term prospects.
For perspective, there will likely be significant further volatility. But at this price point, FCM remains a solid portfolio pick for those with a reasonable risk appetite.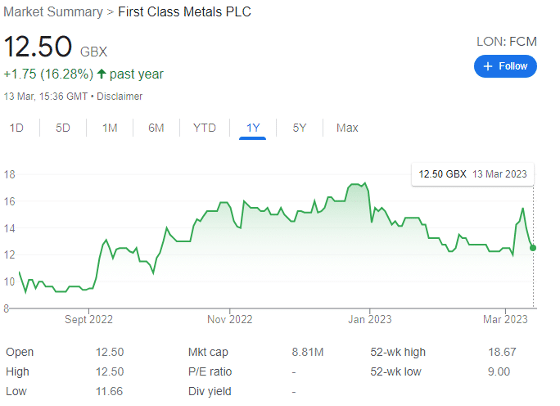 First Class Metals: recent updates
On 26 January, CEO Marc Sale reported a 'highly successful first field season for FCM across the North Hemlo property' enthusing over the newly defined extension of the Dead Otter Lake occurrence into a trend of over 3km.
This trend with several gold assays over 1g/t and an exceptional +19 g/t is very promising, and the associated molybdenum is also positive given that Dead Otter Lake is situated just over 20km from the iconic Barrick Hemlo 23 million oz gold-producing mine.
Then on 6 February, FCM reported an update on its West Pickle Lake project with which Palladium One has Earn In/Joint Venture rights.
The strike length was increased to 600 meters, and the companies reported 3.9% Nickel, 2.5% Copper, 0.05% Cobalt, and 0.55 g/t Total Precious Metals (Pt+Pd+Au) over 2.0 meters of massive and semi-massive sulphides in hole TK-22-074.
And then on 7 February there came an update on the Sunbeam gold mine. FCM made the second payment of CAD$150,000 to Nuinsco Resources, which has triggered the transfer of ownership of the 'core' Sunbeam mine area claims to FCM as $550,000 of the $700,000 total acquisition amount has now been paid. The company is now undergoing a historical data review of the project.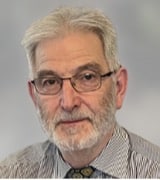 Sale enthused that 'I look forward to reviewing the data these studies provide so FCM can plan a focussed drilling campaign on Sunbeam as soon as is feasible this year.'
Finally on 2 March, FCM provided an update on the McKellar & Magical Properties. With over 100 grab samples now taken, highlights included 4.82% Zinc, and 80 g/t Silver. Eight contiguous claims have been staked, adjoining the southern boundary of the McKellar property, with these having proven potential for Rare Earth Elements.
The CEO noted that 'there are additional compelling targets on the property including the diatreme which will be followed up in the upcoming field season. The anomalous first pass results from the initial field programme at Magical have supported the theory of a mineralisation along the sheared geological contact and further work is planned.'
Lithium project
But it was the update of 9 March that whet my appetite.
FCM announced it had signed finally an agreement with Nuinsco Resources Limited regarding the Zigzag lithium project in Ontario. Not only did 'high net worth individual' Goozee commit to the full £300,000 private subscription at 16p per share, but the signing completed the process outlined in the 'Exclusivity Agreement' announced on 12 December 2022 for the 'lithium property earn In'.
A new lithium project backed by one of the biggest investors in my favourite stocks?
Be still my beating heart.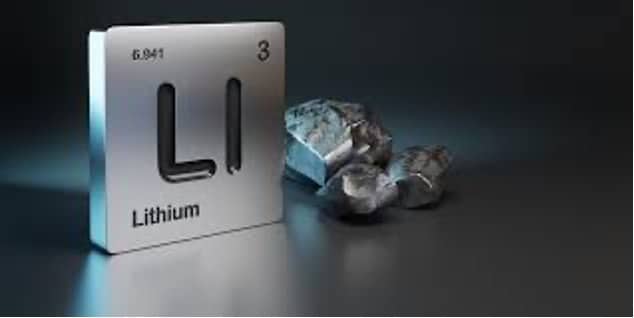 This lithium project boasts historic grades at surface up to 1.68% lithium over 7.9m and 0.168% tantalum over 2.54m. Importantly, the claim group covers the historic Tebishogeshik occurrence as well as other mineralised occurrences.
Sampling by Nuinsco returned strongly anomalous lithium, tantalum, and rubidium, peaking at 3.55% Li20 with significant tantalum, and rubidium results at 836 ppm Ta₂O5, and 4,003 ppm Rubidium Rb₂2O.
The pegmatite hosting the deposit is reported to be a whopping 800m in length and 20m thick at surface. And it's located just 10.5km from Green Technology Metals' Seymour Project alongside several other producing hard rock lithium properties.
Accordingly, it's also close to nearby current key infrastructure, which will significantly reduce any capex costs. Moreover, infrastructure will likely be expanded at nil cost to FCM due to the currently planned Jackfish Hydro project and a spodumene process plant at the Green Technology Metals, Seymour site. I think there's a good chance that Green Technology Metals would be happy to share its plant in exchange for a portion of the profits — further driving down capex costs.
The project is also less than 100km from Armstrong in northwest Ontario in the Seymour Lake area, itself a wider district with a solid reputation for high-grade hard rock, pegmatite hosted lithium.
And the Exploration Permit is already in place, allowing for exploration activities including stripping, trenching, and drilling.
With a diverse range of highly prospective sites, and the Canadian critical minerals strategy now ongoing, First Class Metals remains an excellent speculative share for 2023.
But production remains some way off, and investors will need PREM-like patience to see the profits to fruition.
This article has been prepared for information purposes only by Charles Archer. It does not constitute advice, and no party accepts any liability for either accuracy or for investing decisions made using the information provided.
Further, it is not intended for distribution to, or use by, any person in any country or jurisdiction where such distribution or use would be contrary to local law or regulation.