Britain is home to innovation, offering as much AI products as other EU countries. But how significant is the UK AI industry, landscape, and role towards the economy and society?
British experts say AI has the potential to reshape sectors from healthcare to education. Its impact on the UK in 2022 was profound, contributing £3.7 billion to the economy.
We dive into the current status and prospective trajectory of AI in the UK, gleaning insights from key statistics and trends. We address AI's influence across various British sectors – industry, workforce, and education, amongst others.
Further, we shine a spotlight on the critical legal and ethical dilemmas AI introduces to the UK and its populace. Wrapping up, we project potential future paths for AI in the UK and offer recommendations on capitalising on its promise.
Overview of AI in the UK 2023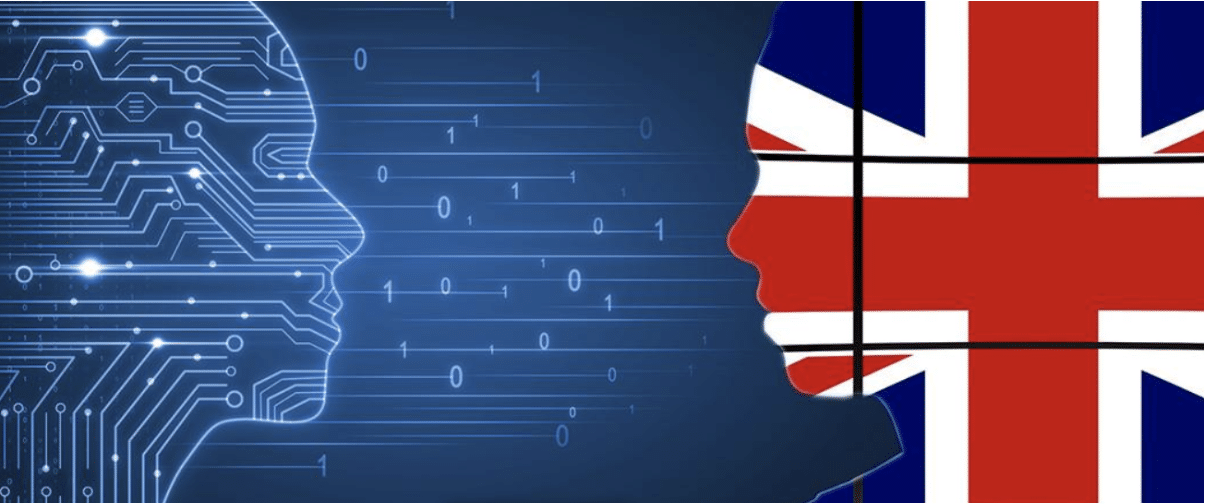 AI's roots run deep in the UK, a testament to a rich legacy of AI research and innovation that harks back to the groundbreaking work of Alan Turing.
With internationally recognised institutions like the Alan Turing Institute, the Centre for Data Ethics and Innovation, and the Office for AI, the UK continues to be a global front-runner in the AI space.
In recent years, AI's growth in the UK has been phenomenal, propelled by:
Access to extensive and varied datasets
Advances in computing power and algorithms
A growing demand for and implementation of AI solutions across diverse sectors
Strong backing from government and private sector investments
Now a linchpin of the UK's economy and society, AI offers substantial advantages to businesses and individuals alike:
Amplifies productivity and streamlines processes
Enhances customer experiences and satisfaction
Paves the way for new products and services
Solves complex challenges and problems
Generates new, value-driven opportunities
Moreover, AI significantly bolsters the UK's global standing and influence. It empowers the UK to:
Maintain a leading edge in AI research and innovation
Draw and retain high-calibre talent and investment
Collaborate effectively with other nations and regions
Tackle global issues and challenges
Forge ahead in shaping AI governance and ethics
In 2023, AI is reshaping the UK, proving to be an invaluable tool for the nation's prosperity and welfare.
Market Assessment of UK AI
AI's influence in the UK extends beyond technological prowess—it's a flourishing industry attracting significant attention and investment. The following key statistics highlight AI's market value and growth in the UK in 2023.
UK's AI Industry Valuation
The UK's AI industry, worth over $21 billion, is predicted by the International Trade Administration to contribute $1 trillion to the economy by 2035. Ranked third globally, the UK has seen a 145% rise in AI usage over the past decade, particularly in data management and natural language processing.
AI's Impact on UK's Job Market
BEIS Research Report AI and related technologies show that AI will negatively transform the UK's job market. By 2030, AI is expected to displace more jobs than it'll create or generate. However, there's also a positive to take from it. PwC projects that AI will enhance the UK's GDP by 10%. Although, this may be followed by more displacement.
AI's Influence on UK Productivity
The CBI report indicates that digital technologies, including AI, could stimulate the UK's productivity. Investing in five key areas could free up £33bn economy-wide and raise growth to 2.8% by 2030. Moreover, by 2030, artificial intelligence (AI) could lead to a 10.3% UK GDP as reported by PWC.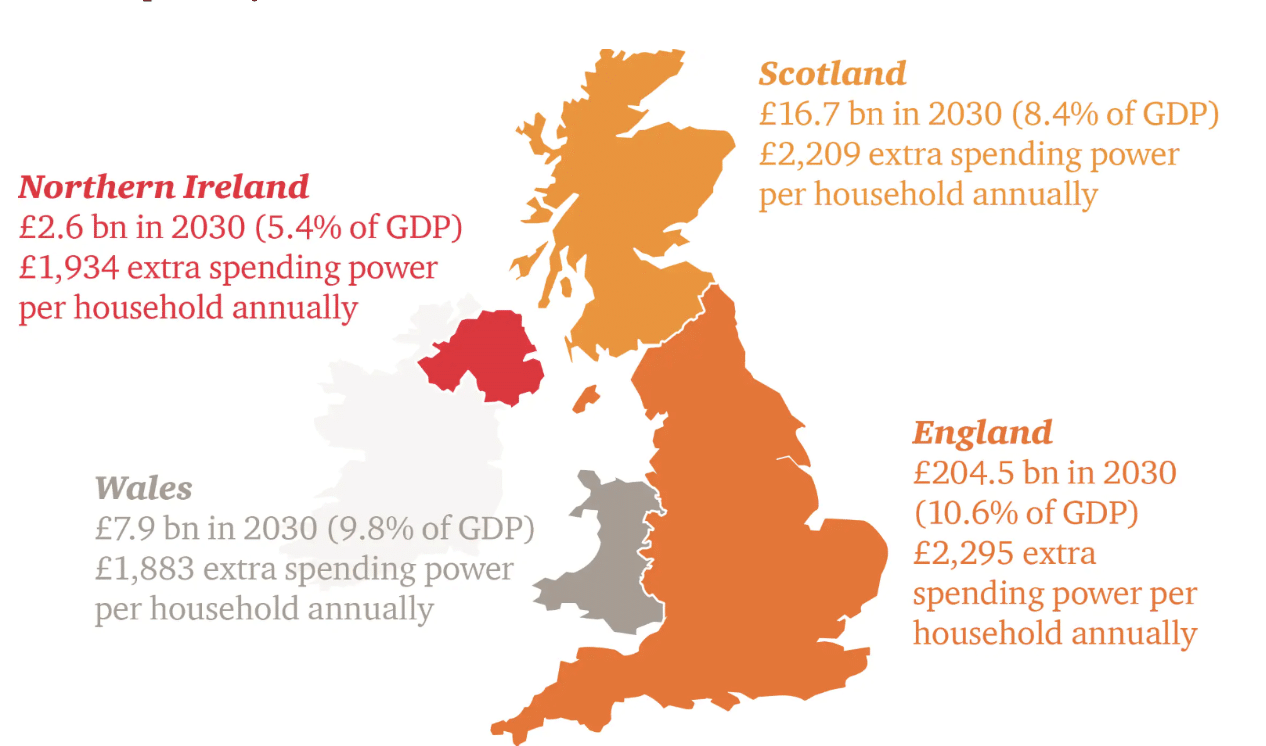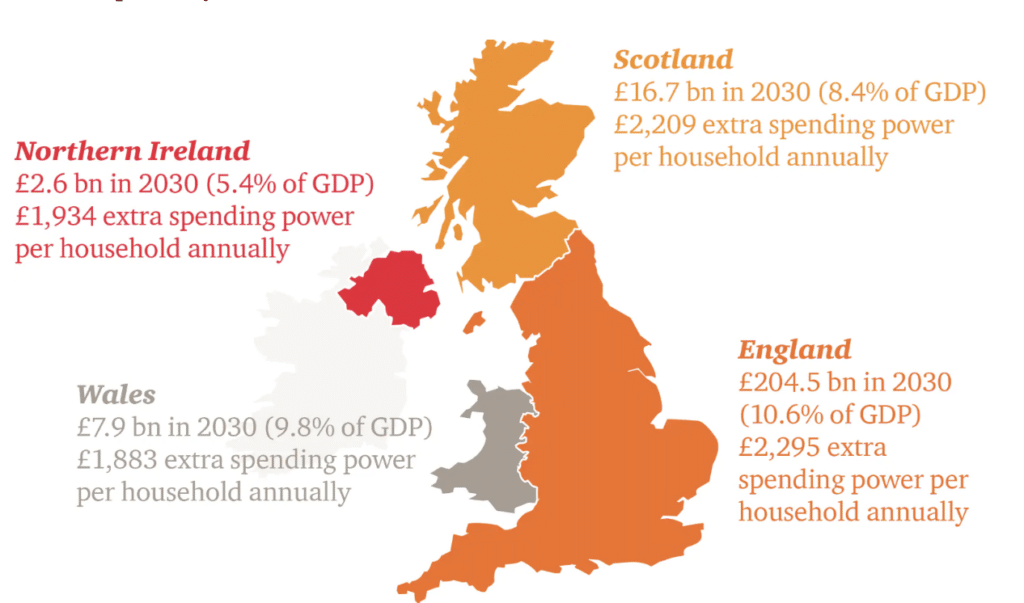 Sources: International Trade Administration, BEIS Research Report, PWC, and CBI report
Rate of AI Adoption in the UK
AI adoption, the process of incorporating AI solutions into existing systems or innovating new ones, gauges how prepared and open UK businesses and organisations are to harness AI benefits. Below are pivotal statistics illustrating the state of AI adoption in the UK in 2023.
AI Adoption Among UK Businesses
A 2022 report found out that about 2% of the UK businesses adopted the use of AI technology. Moreover, 10% more are planning to use similar technology later in the future to grow their businesses. Mckinsey findings reveals almost a similar trend in strategic planning: 56% of UK businesses had an AI strategy in 2021, more than 50% seen in 2020.
Factors Influencing UK AI Adoption
EY's report reveals that the main motivations driving UK businesses to embrace AI are enhancing customer experience (54%), boosting revenues (52%), and refining decision-making processes (51%). On the flip side, a Microsoft report identifies the primary hurdles hindering AI adoption: a skills deficit (69%), data-related challenges (56%), and security and privacy concerns (41%).
| | |
| --- | --- |
| Factor | Influence |
| AI readiness | Positive |
| Customer experience | Positive |
| Revenues | Positive |
| Decision making | Positive |
| Skills | Negative |
| Data issues | Negative |
| Security and privacy | Negative |
Source: This table is based on the data from the reports by EY and Microsoft.
Industry Leaders in AI Adoption
A report by UK government states that approximately 15% of UK businesses, equating to around 432,000 companies, adopted at least one AI technology in 2020:
| | |
| --- | --- |
| Industry | AI Adoption Rate |
| ICT | 29.5% |
| Legal | 29.2% |
| Finance | 26.7% |
| TMT | 24.8% |
| Life Sciences | 23.6% |
| Industrial Products | 21.4% |
| Services and Infrastructure | 18.9% |
| Retail | 11.5% |
| Health | 11.5% |
| Hospitality | 11.9% |
Source: This table is based on the data from the report by Capital Economics, which shows the percentage of businesses that have adopted at least one AI technology by industry in 2020.
AI Adoption Forecast for the UK
A McKinsey report estimates that AI could fuel a 16% increase in global output by 2030. However, the impact on the UK could be even more pronounced due to its above-average AI readiness. The country's economy is predicted to experience a significant uplift, potentially increasing the current GDP by approximately 22% by 2030.
Sources: EY, Microsoft, Capital Economics, McKinsey 1,  Mckinsey 2 , McKinsey 3,  and McKinsey 4
Investment Trends in AI in the UK
AI investment, the funding and backing of AI startups and projects by both public and private entities, reflects the appeal and potential of the UK's AI industry to investors and entrepreneurs. Below are key statistics illustrating the state of AI investment in the UK in 2023.
Capital Investments in UK AI Startups
The Tech Nation and Digital Economy Council report shows UK AI start-ups attracted £6.3 billion in VC funding in 2018, a six-fold increase since 2014. In 2022, British firms raised $30 billion in capital, surpassing France and Germany combined. The UK tech sector, now valued at $1 trillion, is the third largest globally. The International Trade Administration predicts significant growth for the UK's AI market, contributing $880 billion to the economy by 2035.
AI Funding Trends in the UK
In 2022, AI deals increased by 6% to 616, a record level for the region. Funding also held up relatively well, falling by 9% to $6.2B. The UK drove a great deal of this activity, accounting for 48% of Europe's AI funding and 32% of its deals in 2022. Total investment in the UK's AI companies is in excess of £13bn. In 2022, the UK government revealed that over 50,000 people work at 3,170 AI companies in the UK, which combined to generate £10bn in revenues last year. AI suppliers added £3.7bn in value to the UK economy and attracted nearly £19bn in private investment through 2022.
Driving Factors for AI Investment in the UK
McKinsey and EY reports suggest that the top drivers for UK's AI investment are enhancing customer experience (54%), boosting revenues (52%), and decision-making (McKinsey 51%, EY 46%). Other factors include reducing costs (McKinsey 40%, EY 45%), increasing productivity (McKinsey 38%, EY 39%), and improving competitiveness (McKinsey 28%, EY 29%) and innovation (McKinsey 27%, EY 28%). 
Source: Tech Nation, CB Insights, Tech Nation, Beauhurst, McKinsey, Altimeter Prophet, and EY.
Impact of AI on the UK Job Market
AI's influence on the UK job market stirs intense debate, with the technology's capacity to create new jobs, augment existing roles, and displace certain jobs. Here are pivotal statistics showcasing how AI is shaping the UK job market.
Jobs Created by AI in the UK
According to PwC, AI and related technologies are expected to generate nearly as many jobs as they displace in the UK within the next two decades. An estimated 7.2 million fresh roles could emerge, resulting in a net job boost of around 200,000. Sectors likely to witness the most substantial job growth include health and social work, professional and scientific services, and education.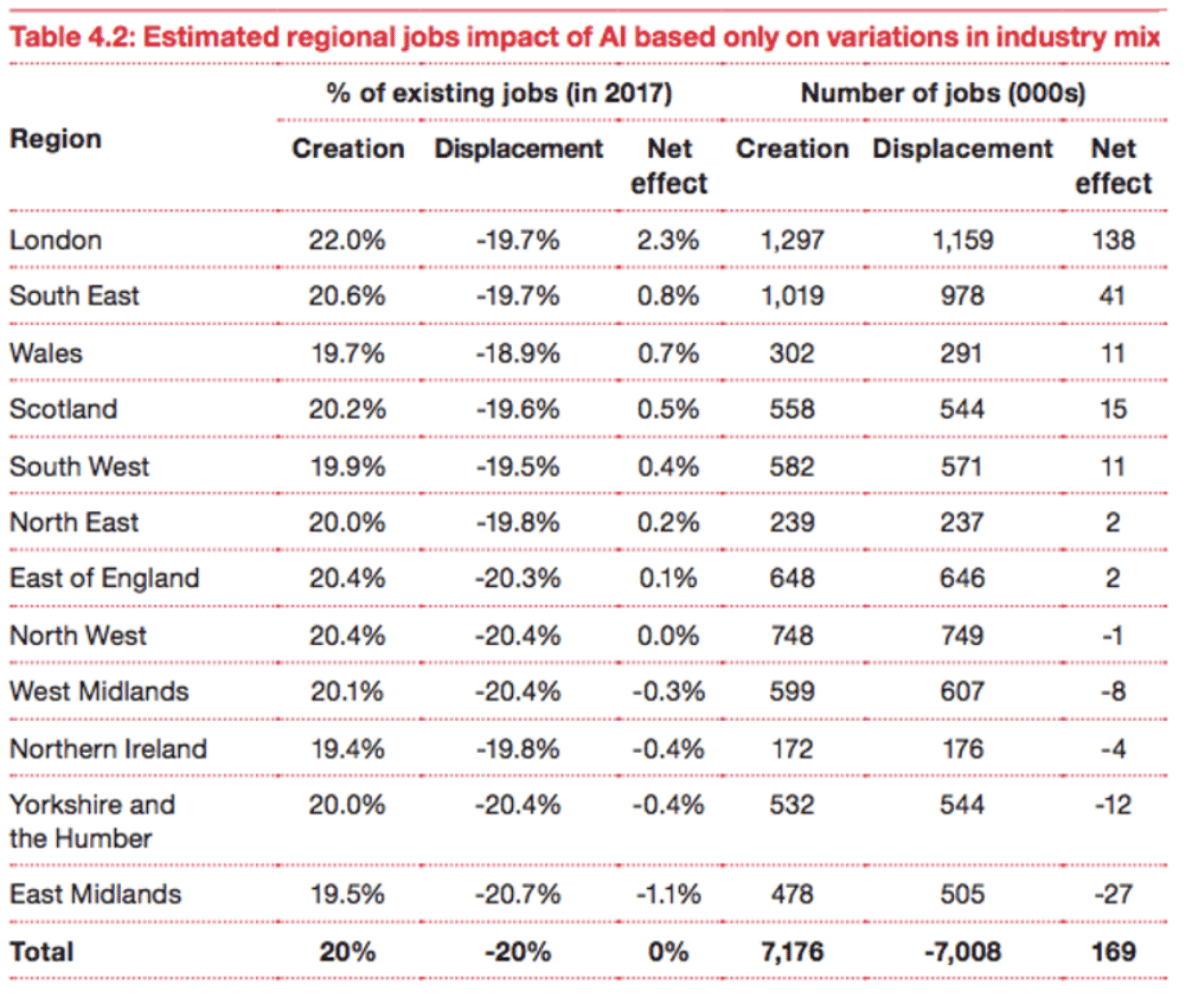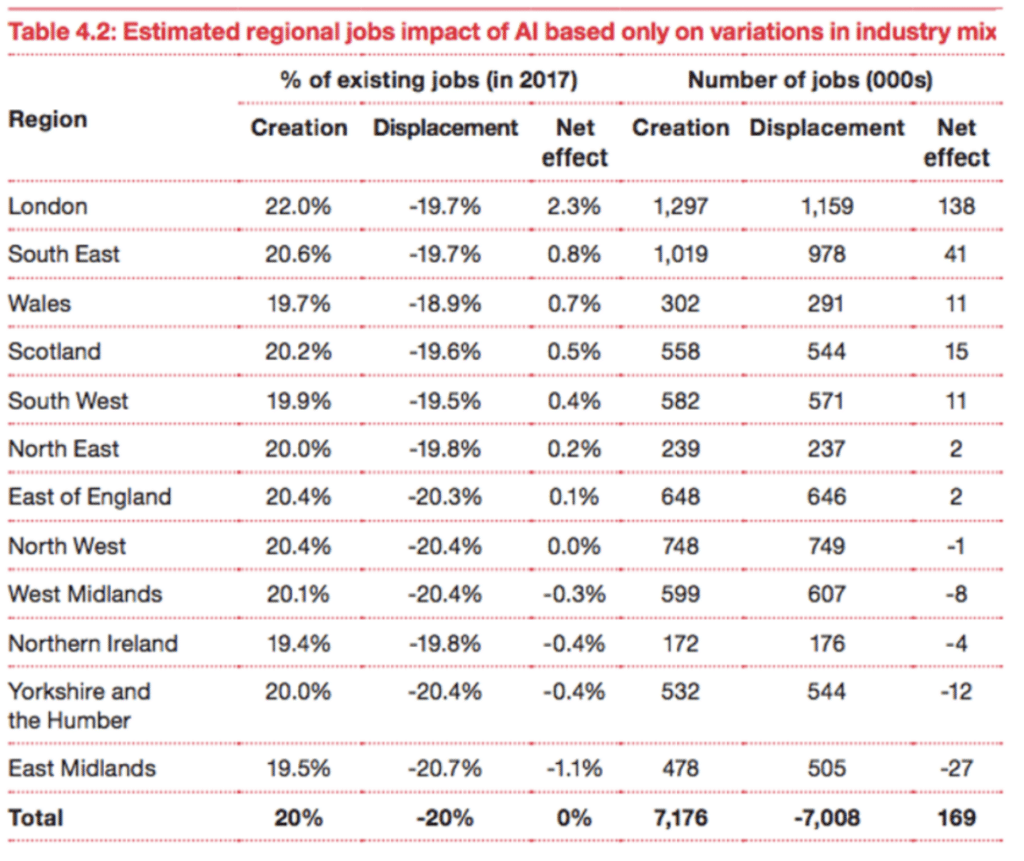 AI's Role in Job Displacement in the UK
PwC further reiterates that over the next two decades, AI and related technologies may lead to the displacement of approximately 7 million jobs in the UK. Industries likely to face the most significant job losses include manufacturing, transport and storage, and public administration. It's worth noting that the influence of AI on job trends will differ based on factors such as industry sector, geographic region, education level, and gender.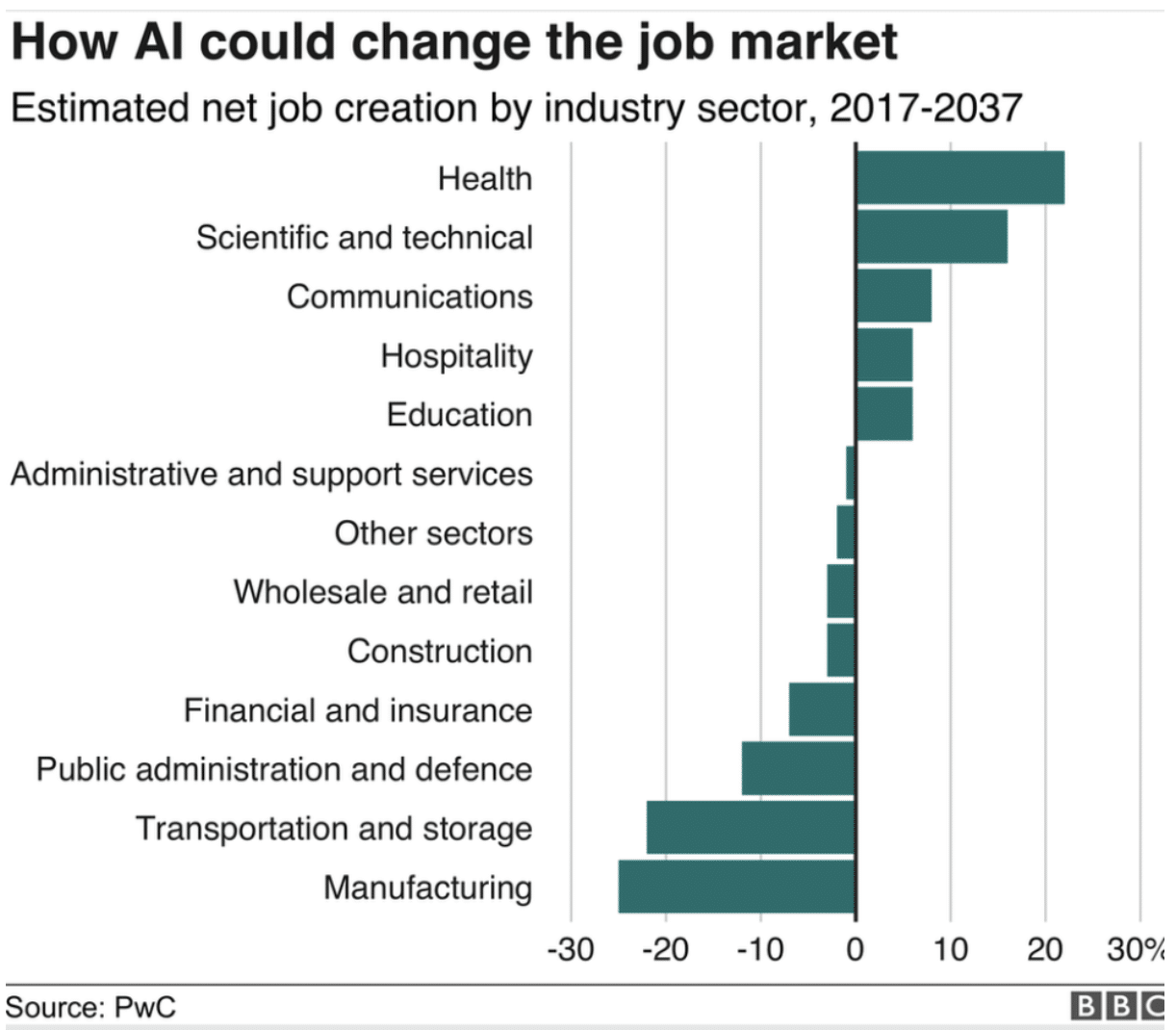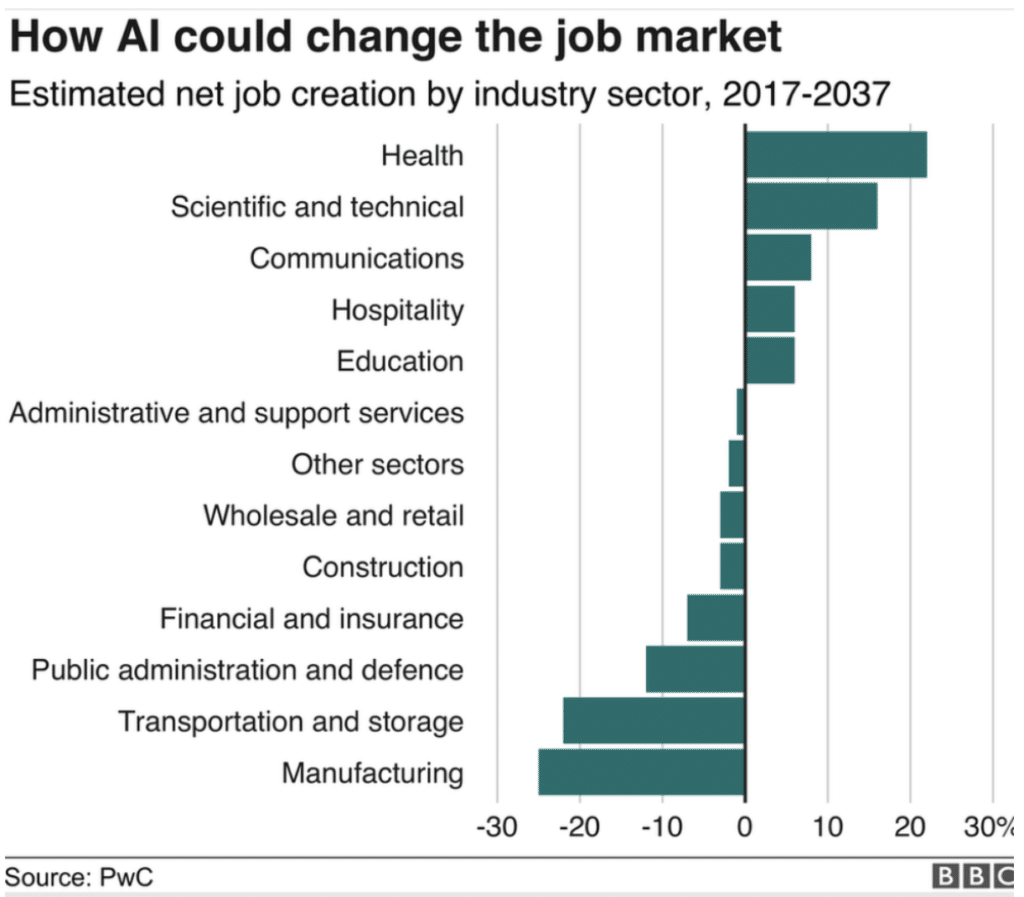 AI's Position in UK's Future Workforce
Per a report by PwC for the Department for Science, Innovation and Technology and Department for Business, Energy & Industrial Strategy, AI could displace about 7 million jobs in the UK, but there's no panic. The same report proved that over these 20 years, AI would create additional 7.2 million jobs. Approximately 200,000 net jobs AI will create.
AI's Place in UK Education System
The introduction of AI in the UK education sector holds a wealth of promise and excitement. AI presents the potential to enhance both the quality and accessibility of education for learners and educators alike. Here are some illuminating statistics demonstrating how AI is shaping the UK education system in 2023.
Impact of AI on the UK Education Sector
Per the UK Government, the Department for Business and Trade, UK Edtech attracts more overseas investors among all European countries. Statistically, that accounts for 41% of every investment in European educational technology. With AI predicted to permeate the education sector in the medium term, there are opportunities for it to address challenges like teachers' administrative load, personalised learning, and assessment feedback.
| | |
| --- | --- |
| Impact category | Latest stat |
| Edtech market size | 41% of Europe's edtech sector |
| AI's potential impact | Potential solutions for teacher workload, personalised learning, and assessments |
| Education's diverse nature | Current tech offerings are narrow and underdeveloped |
| Challenges in the edtech market | Non-standardised procurement, concerns over effectiveness, privacy, fairness |
Source: This data is from the UK Government, the Department for Business and Trade.
Impact of AI on the UK's Healthcare Sector
The integration of AI in the UK's healthcare sector is one of the most beneficial and significant applications of AI. It offers immense potential for enhancing the quality and efficiency of healthcare services for both patients and providers. Here are some key figures illustrating AI's impact on the UK's healthcare sector in 2023.
AI's Contribution to the UK Healthcare Sector
PwC's 2020 report suggests AI can reshape UK healthcare by 2030, enhancing outcomes and efficiency. AI applications include:
Assisting clinical decisions.
Using devices for patient health tracking.
Streamlining administrative tasks.
Improving diagnostic imaging and pathology.
The UK Government is investing £100 million in AI. This includes establishing five centres for diagnostics, and supporting long-term COVID-19 responses. Furthermore, NHSX and an AI Lab with £250 million funding have been created to steer digital tech use, and to test and evaluate promising AI technologies.
Impact of AI on Patient Care in the UK
The impact of AI on UK patient care is assessed by the AI in Health and Care Award winners. With £123 million disbursed for 86 projects across four phases, the aim of improving patient outcomes, reducing costs, and improving the patient experience. Another method is the Algorithmic Impact Assessments (AIAs) pilot. This initiative scrutinises potential AI risks, involves stakeholders in the design process, and aims to prevent worsening health disparities.
AI's Role in the UK Healthcare Industry
The UK government is investing robustly in the UK Healthcare Industry. The NHS England reported £36 million in support funds reimbursement to test the state-of-the-art AI technology. The funds are to cater for 38 trailblazing projects to transform the quality of care and the speed of diagnoses for conditions including lung cancer. The report outlines AI's current status, challenges, and opportunities in primary, secondary, social care, and public health domains.
| | | | |
| --- | --- | --- | --- |
| Domain | Current State | Challenges | Opportunities |
| Primary care | Patient triage, self-care, admin tasks, clinical decision-making. | Data quality, regulation, user acceptance. | Enhanced services, personalized care, patient empowerment. |
| Secondary care | Image analysis, vitals monitoring, clinical decision support. | Data availability, evolving AI impact. | Improved diagnosis, resource optimization, tailored treatment. |
| Social care | Companionship, daily living assistance, care coordination. | Privacy, human dignity and social interaction. | Improved quality of life, workload reduction, better communication. |
| Public health | Disease tracking, population health analysis, risk assessment. | Governance, public vs individual rights. | Disease prevention, efficient health campaigns, equitable outcomes. |
Source:
PwC's
Sources: PWC, GOV.UK, Health Service Journal, NHS England 1, NHS England 2 
Legal and Ethical Challenges of AI in the UK
While AI brings numerous advantages to the UK, it also presents complex and sometimes contentious legal and ethical challenges. Here are the significant challenges that AI poses for the UK in 2023.
Legal Complexities of AI in the UK
In 2019, UKIPO study found out that almost 30,000 AI patent applications were published globally in 2017, an increase of over 400% compared to 2007. Here's a simplified table from the Department for Science, Innovation, and Technology outlining AI regulation principles:
| | |
| --- | --- |
| Principle | Description |
| Safety | Ensure AI performs safely and securely. |
| Transparency | Make AI processes clear and understandable. |
| Fairness | Ensure AI doesn't discriminate. |
| Accountability | Keep AI under human supervision. |
| Redress | Allow for challenging AI outcomes. |
Ethical Implications of AI in the UK
According to Lexology, the UK is doing well in terms of AI-related patents. In fact, 88% of AI patents first filed in the UK are also protected in other countries. This is in contrast to the US and China, who only have 53% and 19% of their patents protected in other countries, respectively. These figures highlight the prevalent ethical awareness and concerns surrounding AI in the UK.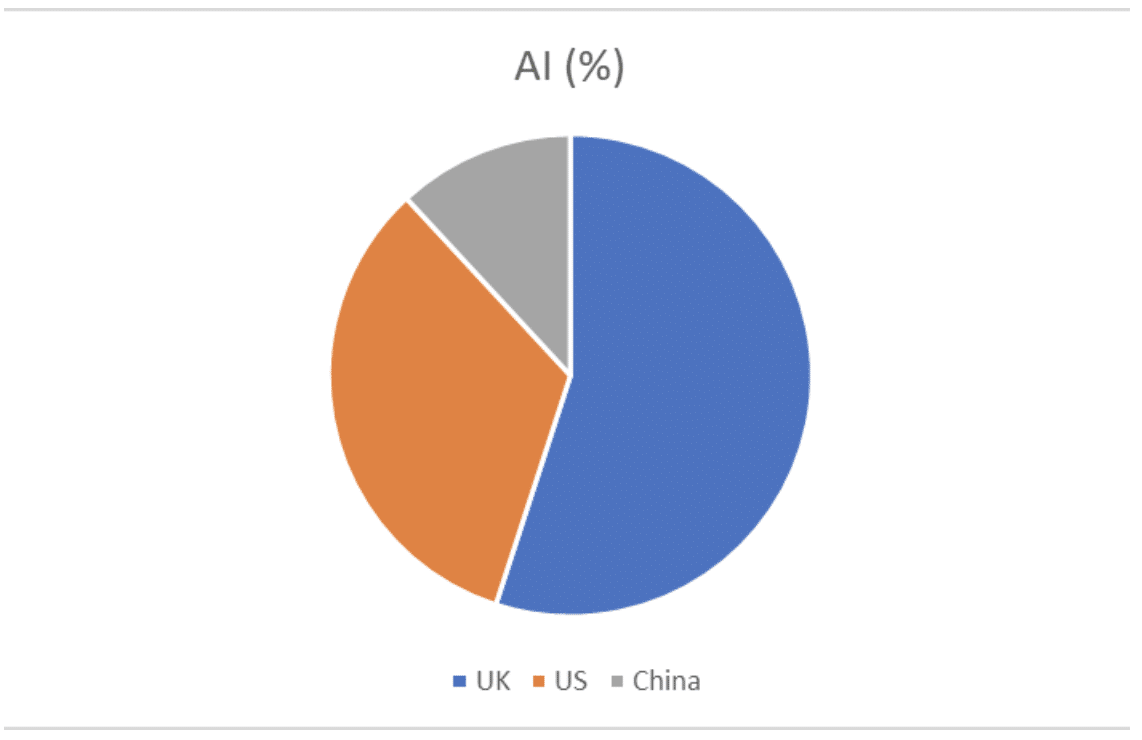 Sources: Lexology 1, Lexology 2
AI's Prospects in the UK
AI's future in the UK is promising and optimistic. AI has the potential to yield significant benefits and opportunities for the UK and its citizens in the future. Here are some of the projected statistics and roles that depict how the UK can leverage AI to achieve its ambitions and vision for 2023 and beyond.
Projected Progress of AI in the UK by 2023
Research and Markets project the UK's AI market to grow at a 35.9% CAGR, driven by digitization in banking, insurance, healthcare, and business services. Meanwhile, Statista predicts a 7.54% growth in the Business Intelligence Software market, reaching a volume of US$1.86 billion by 2028.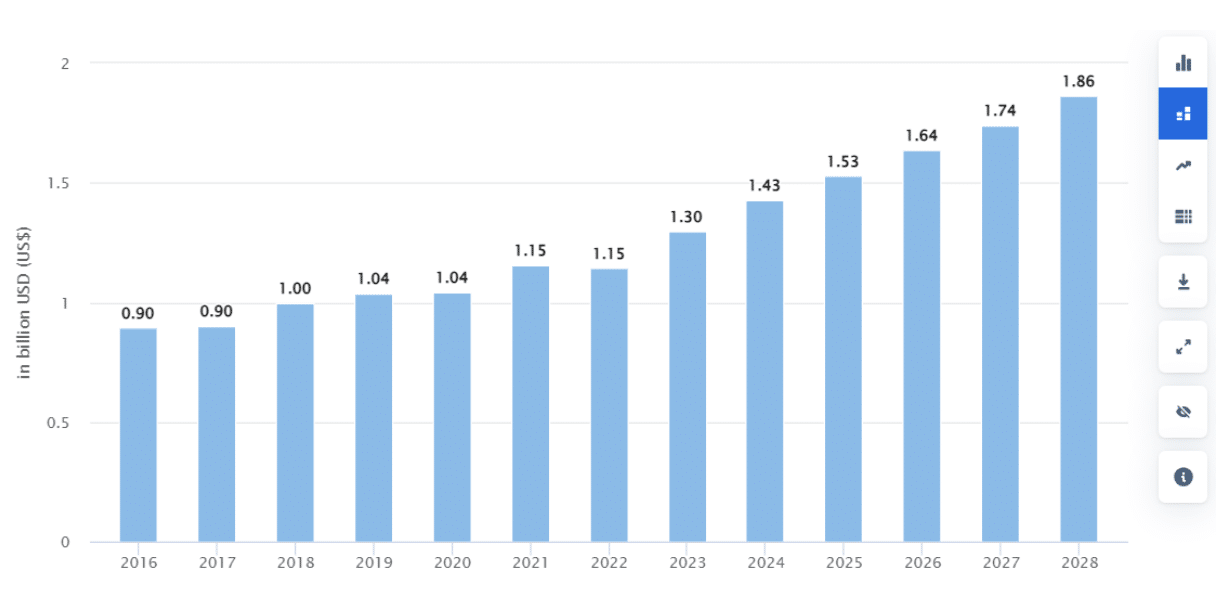 AI's Role in Shaping the UK's Future
PwC predicts AI to generate £232 billion in additional UK revenue by 2030 via product enhancements and automation. Since 2014, the UK government invested over £2.5 billion in AI, with a ten-year vision to make the UK the best place to live and work with AI, fostering an ethically sound, pro-innovation regulatory environment, as per Trade Gov.
Sources: Research and Markets, Statista, PwC, and Trade Gov
Conclusion
AI is reshaping the UK in 2023, offering substantial opportunities for businesses and individuals, despite legal and ethical challenges. This guide has explored AI's current status, future potential, legal and ethical considerations in the UK. We also forecasted and suggested how the UK can utilize AI to meet future goals. We hope this 2023 AI UK guide has been enlightening.