Multiple promising treatments at the pre-clinical stage biotech stock could make it a solid speculative investment for 2023 and beyond.
Hemogenyx Pharmaceuticals (LON: HEMO) is not a stock for the faint-hearted. The Main Market company's share price spiked to 13.4p in late August 2020, and then collapsed to under 3p by mid-May 2021. It then spent months trundling along within the 1p-2p range, before rapidly rising in the new year to 3.93p on 16 January, and then dipping to 2.52p after its placing today.
And this dip may be a buying opportunity.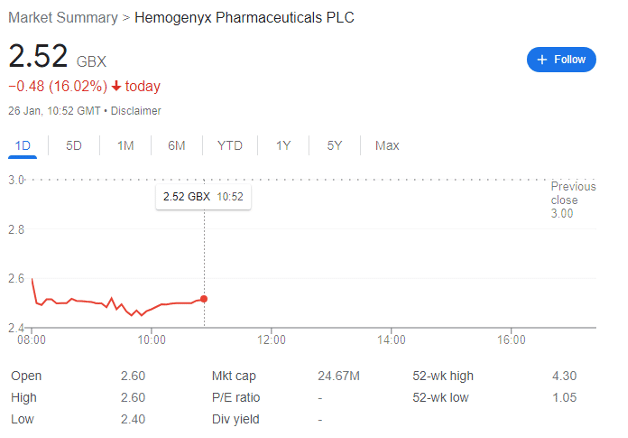 HEMO shares: science in brief
The investment case is relatively simple; the company works in the blood cancers space, a group of diseases which affect over 1.1 million people annually, who after exhausting traditional options such as chemotherapy, radiation therapy, and immunotherapy, are offered a bone marrow/hematopoietic stem cell (BM/HSC) transplant as the ultimate last resort.
This requires some fairly unpleasant prior conditioning of patients, which includes immunosuppression of the patient and providing space for the bone marrow transplant, which helps to eradicate the source of the malignancy. This step usually involves combining chemo with radiation therapy, which comes with a whole host of unwanted side effects, including high mortality, radiation damage, thyroid damage, fertility problems, bone damage, and even development of additional cancer many years later.
HEMO is developing an assortment of candidates which could make bone marrow transplants less dangerous, making them a viable option for more patients with better outcomes for leukaemia, lymphoma, MS, and lupus to name just a few.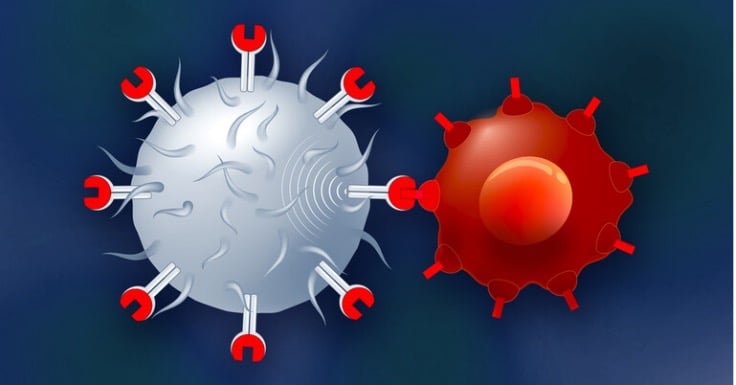 As a note, this is a very brief overview. But key treatments are:
(i) Human hemogenic endothelial (Hu-PHEC) cells, used to generate cancer-free hematopoietic stem cells for use in transplants to treat blood cancers. The company gets the initial cells from either umbilical cords and placenta, or from the liver biopsy of a patient.
The tech has several advantages; as a naturally occurring cell type, Hu-PHECs can be easily isolated, do not require so-called 'heavy' manipulation to be used, do not accumulate blood-cancer related mutations, and can be propagated in vivo, allowing for the potential of in-person gene therapy.
(ii) To replace chemotherapy agents used to condition patients for BM/HSC transplants, the company has developed a way to eliminate hematopoietic stem cells and progenitors using specific CDX antibodies. These CDX antibodies can both eliminate malignant leukemic cells and increase the efficiency of patient conditioning while reducing the side effects.
(iii) HEMO has developed chimeric antigen receptor programmed T cells, code-named HEMO-CAR-T, using humanised monoclonal antibodies against a target on the surface of AML cells. CAR-T therapy is a treatment whereby a patient's own T cells (immune cells) are isolated form the patient, modified to recognise and kill their cancer cells, grown to large numbers, and then re-injected into the patient.
HEMO's advance is to be able to reprogramme T cells in vitro, without the need to remove them from the body.
(iv) ApbHC, which can be used for testing multi-specific antibodies targeting blood malignancies, can also be used to test new cell therapies, and potentially could be a way to create new treatments for legacy diseases, as well as being a tool for the rapid development of antibodies against unknown new diseases.
HEMO has established a subsidiary — Immugenyx — to commercialise this treatment, but the science is too complex for me to break down into layman's terms.
(v) HEMO has developed novel Chimeric Bait Receptors (CBR), a platform tech which involves programming immune cells using a novel type of modifiable synthetic receptor to destroy viral pathogens. The idea is to programme immune cells to destroy malignant cells that are either cancer-causing or virus-inducing.
For the scientifically inclined, HEMO is able to activate microphages to kill virus infected cells and protect against the virus by programming them with a set of novel CBRs. It's also developed another simpler technology, Bait-Macrophage Engagers, that act like antibodies and scavenge virus particles in the blood to neutralize them.
Recent developments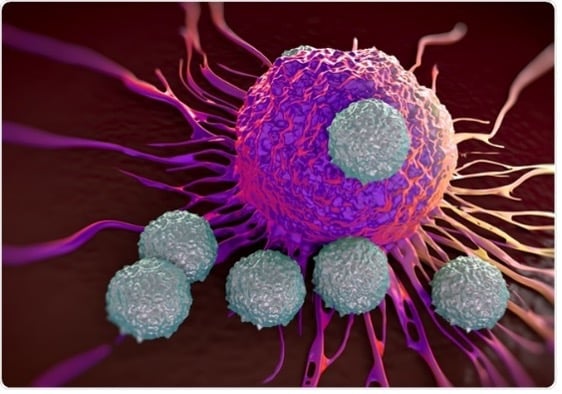 On 23 January, the company reported the successful completion of the third of three Process Qualification runs of the HEMO-CAR-T manufacturing process, a step required before the company can submit an Investigational New Drug application to the FDA. It will then look to start Phase 1 clinical trials.
More significantly, on 9 January, the company announced that it had made 'significant progress' on its CBR platform, having 'identified a target protein that can be incorporated into a single multipurpose CBR-based therapeutic capable of treating multiple viruses that belong to different viral families, instead of having to make a separate CBR construct for every virus.' Possible target viruses include Dengue, Ebola, Marburg, Zika and Chikungunya, and the platform could also be effective against several cancer types.
The treatment was first designed to eliminate covid-19 variants, and the company is actively conducting in vivo tests using a 'a biosafety level 3 facility that belongs to a government-owned institution.' Most importantly, HEMO emphasises that CBRs are 'insensitive to mutations of the targeted virus, preventing the development of resistance.'
CEO Dr Vladislav Sandler enthuses that 'CBR is a ground-breaking new approach to treat existing and emerging viral infections…its potential ability to treat a very wide range of viruses give it the potential to revolutionise the treatment of viral diseases and even to become the means of counteracting biological warfare.'
With a £30 million market cap, HEMO is still in the expensive pre-clinical stage for its treatments. Accordingly, half-year results saw the company record a loss of circa £1.3 million, but it still had a cash base of £5.8 million in late June, giving the company a runway of about a year at the time.
This meant that today's placing was essentially inevitable, but now leaves the share price relatively de-risked for newcomers. 162,250,000 new ordinary shares were placed at 2.5p per share, a 0.5p discount on the previous day's close, with the company saying that proceeds will be used to 'facilitate progression of the Company's HEMO-CAR-T product candidate into clinical trials and to enable the Company to continue development of product candidates for the treatment of viral infections based on its Chimeric Bait Receptor platform.'
I'd finish with a word of caution: HEMO is pre-clinical, operates in an exceptionally complicated scientific space, and is nowhere close to a regulatorily approved treatment for any of its breakthroughs. Avacta, for example, is far further along this road with its treatments, but then this is reflected in its market cap.
But at HEMO's current price point, it could be a strong biotech stock for high-risk, high-reward investors to consider adding to their portfolios.
This article has been prepared for information purposes only by Charles Archer. It does not constitute advice, and no party accepts any liability for either accuracy or for investing decisions made using the information provided.
Further, it is not intended for distribution to, or use by, any person in any country or jurisdiction where such distribution or use would be contrary to local law or regulation.