ABDX is shortly launching a world-first saliva pregnancy test. It could become the global standard.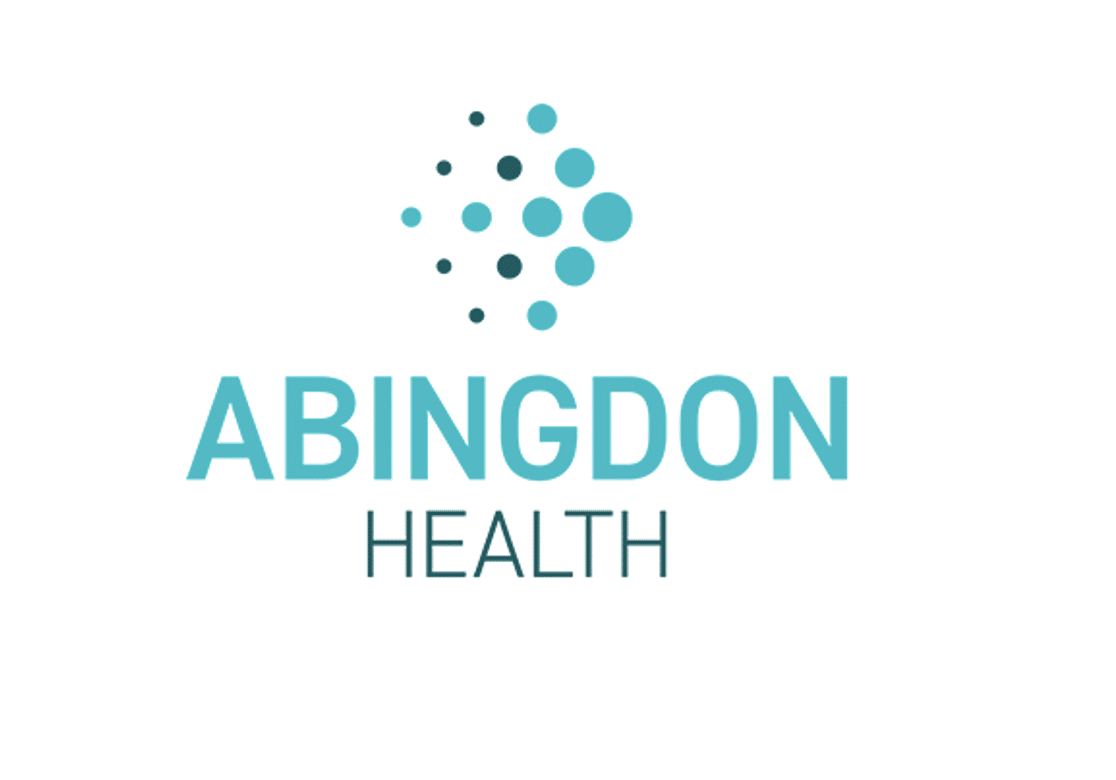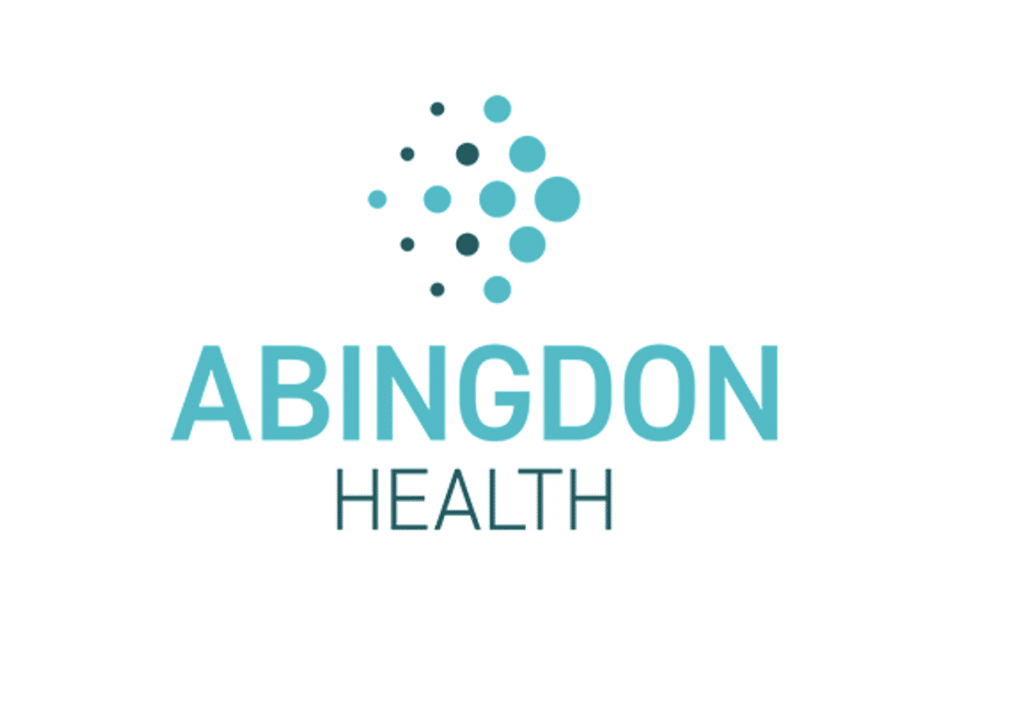 Abingdon Health (LON: ABDX) shares have shot up by over 100% year-to-date as investors in the FTSE AIM biotech are finally starting to see some light at the end of the tunnel. The company put to bed a hotly contested Judicial review in October last year, has moved away from covid-19 lateral flow testing, and is now starting to consider a move higher.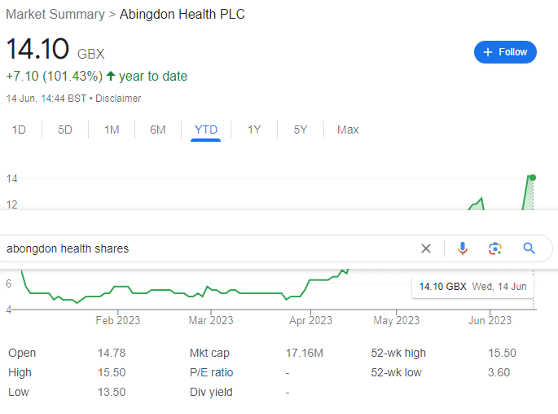 Let's dive in.
What does ABDX do?
Abingdon is a lateral flow CDMO (contract development and manufacturing organisation), offering global services to multiple sectors including clinical, animal health, plant health, and environmental testing. A large part of the attraction is that the company is capable of taking an idea from the drawing board all the way through to mass production.
The business offers product development, regulatory support, technology transfer and manufacturing services for customers looking to develop new assays or transfer existing laboratory-based assays to a lateral flow format. The company's flagship Simply Test range of self-tests cover multiple use cases, including for pregnancy, HIV, and even drink spiking.
Financial position
In unaudited interim results for H2 2022, the company record 'strong revenue traction' from a diverse client array. The opportunity pipeline 'remains robust and the Board believes Abingdon's lateral flow CDMO proposition will continue to yield further contract service opportunities over the course of 2023 and beyond.'
ABDX is now working on 11 different contract service projects — compared to just three at this point last year — with two additional contracts signed, work on which will commence in Q4 2023.
Abingdon saw revenue of £1.1 million in the half — while this was £600,000 less than in H1 2022, it is 'expected to be significantly improved in H2 2023 and FY 2023 revenues are expected to be materially higher than FY 2022 revenues of £2.8m.' Gross margin remained relatively constant at a reasonable 25.9%.
ABDX had £4.4 million in cash as of 31 December 2022, and £3.7 million at 31 March 2023. This suggests a current monthly cash burn of circa £233,000, leaving it with around 16 months of cash runway. At present, the board's 'primary objective' is to move the Company to a breakeven and cash flow positive position which it forecasts will be achieved in FY 2024.
This means that a placing is unlikely anytime soon, but investors should reassess in early 2024 as there is little wiggle room for delays to profitability. The company saw an adjusted EBITDA loss of £7 million for full year 2022.
Flagship: Salistick pregnancy test
In early February, ABDX signed a distribution agreement with Salignostics for the launch of Salistick, which is a rapid saliva-based pregnancy test. The company also sells self-tests for, amongst other things, sperm counts, ovulation and UTIs, but it's this product that is exciting investors.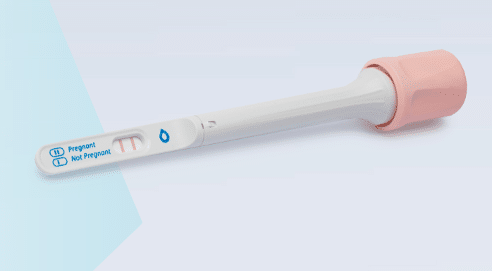 Salistick works similarly to the traditional urine pregnancy test but is capable of detecting pregnancy hormone β-hCG (human chorionic gonadotropin) in saliva. The test is CE marked and expected to launch this quarter — through Abingdon's direct-to-consumer site, and also the company's pharmacy distribution channels.
Interestingly, Salignostics' technical breakthrough platform, which allows for lateral flow testing of saliva for pregnancy, could easily be adapted to other use cases. ABDX CEO Chris Yates enthuses that 'we are delighted to be distributing Salistick in the UK and Ireland, the first saliva pregnancy test to be launched worldwide.'
A saliva-based pregnancy test could rapidly become the new standard. Many have tried this before, and for good reason. While the product itself is going to be desirable — women happily pay 10x more for a Clearblue branded test than a Poundland special — there is one problem concerning the ramp-up.
And that's the lack of brand awareness or SEO capability. If you Google 'simply test,' the top result is for a company which has ceased trading. ABDX should do their level best to secure this URL, especially as it is no longer being actively used. This may not be a huge problem at launch but will be as ABDX continues to expand its product range.
But assuming that the test works in practice, investors could be in on the ground floor of a revolutionary company with a £17 million market cap. The global pregnancy testing market was worth $1.36 billion in 2021, and this was expected to rise to $1.74 billion by 2026. More recent analysis considers the industry has already breached the $2 billion mark.
Recent developments
In early March, Abingdon was granted a further patent for its smartphone lateral flow reader, AppDx, the use of which Yates considers will be 'critical in allowing widespread adoption of lateral flow rapid-testing.'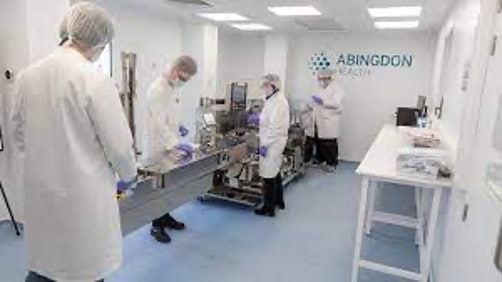 Then on 20 March, ABDX entered into a strategic partnership with Senzo, whereby Abingdon Health's CDMO service will support Senzo in leveraging its innovative, high-accuracy Amplified Lateral Flow point-of-care diagnostics platform technology across multiple product opportunities.
These include a Covid-19 antigen assay, a broader respiratory panel, and other infectious disease tests initially, though the companies point out that 'there are a wide range of applications across clinical, animal health, food, plant pathogen and environmental testing that would benefit from strengths of Senzo's platform technology.'
This was an attractive development — Senzo is a market leader in the rapid diagnostics testing market, with its revolutionary lateral flow technology delivering the same accuracy as laboratory-based PCR, but with results available within 10 minutes at a fraction of the cost. CEO Jeremy Stackawitz enthuses that this 'is a terrific opportunity for Senzo…collaborating with Abingdon creates a valuable synergy for customers.'
Meanwhile, Yates notes that 'this strategic partnership agreement provides Senzo Health and its customers with access to Abingdon's best-in-class CDMO service to enable accelerated product development and time to market.'
The bottom line
Despite the 100% rise, ABDX shares are still cheap given the potential. Investors are simply waiting for the pregnancy test to become available. Internal research suggests that 68% of consumers would prefer a saliva test over the urine standard.
And 840 million pregnancy tests are sold every year. Assuming that this new device can compete on price and accuracy in practice, demand could explode.
The key risk is the cash burn. This is not a current problem and may never be an issue. However, the company has indicated that revenues will strongly pick up in the next half, which leaves little room for error. If it takes longer, a placement may become necessary — though not for at least six months in my view.
This article has been prepared for information purposes only by Charles Archer. It does not constitute advice, and no party accepts any liability for either accuracy or for investing decisions made using the information provided.
Further, it is not intended for distribution to, or use by, any person in any country or jurisdiction where such distribution or use would be contrary to local law or regulation.