Tesla, Savannah Resources, Lake Resources, Albemarle, and Ganfeng Lithium are the five top lithium stocks to watch in the second half of 2022.
Lithium stocks could become the oil stocks of the 21st century, with the silvery metal the preferred power source of the ongoing EV revolution.
And while most metals have begun falling from their record highs, lithium is remaining steady at a near-record $75,000/tonne, up from $12,000/tonne just five years ago. Goldman Sachs recently threw a spanner in the works, declaring the lithium bull market 'over for now,' thinking it a 'fundamental mispricing (that) has in turn generated an outsized supply response well ahead of the demand trend.' The bank expects the metal to collapse to $16,373/tonne in 2023.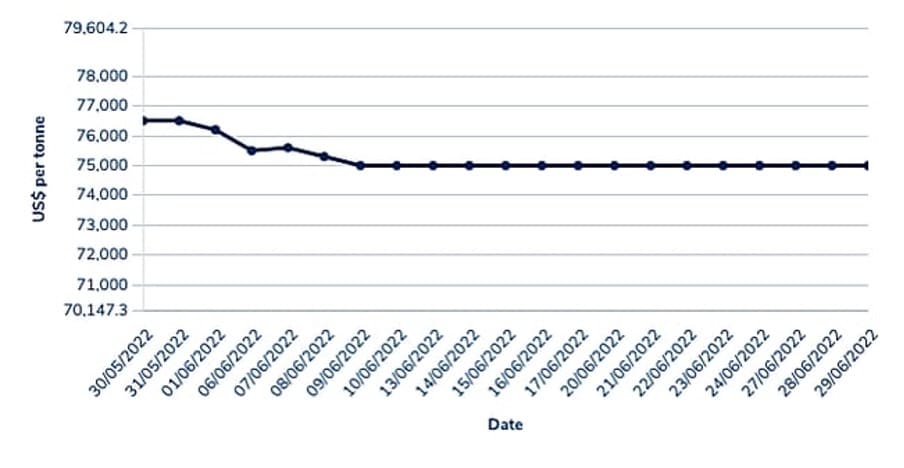 Accordingly, most lithium stocks are falling. But for position investors, they could now have excellent entry points.
Moreover, Goldman also thinks the EU's EV market could be worth $900 billion by 2035, with demand for EV batteries to increase at a CAGR of 20% through 2030.
And to understand the global potential of lithium mining, EV market leader Tesla's $700 billion market cap is comparable to every other auto manufacturer in the world combined. Further, Tesla sold less than one million vehicles in 2021, compared to the 57 million passenger cars produced in total.
With EVs starting to replace ICE cars over the next decade, lithium demand is predicted to increase tenfold by 2030, coinciding will the gradual introduction of legislation prohibiting the manufacture or sale of ICE cars globally. Specifically, the International Energy Agency thinks lithium demand will increase by 900% from current levels by 2030, and by 4,000% by 2040.
But lithium mines typically take a decade to develop, meaning that in the long term, a supply squeeze is all but inevitable.
1. Tesla (NASDAQ: TSLA)
While not a traditional lithium stock, Tesla is the EV global market leader by a significant margin. Of course, a recession is on the way, with the company losing $500 billion in market cap value year-to-date. Moreover, CEO Elon Musk has warned investors that new gigafactories in Berlin and Austin, Texas, are losing billions over battery shortages and supply disruptions. He's also posited that job cuts could be coming amidst the downturn.
However, the EV maker has set record production numbers over multiple quarters, and still expects to increase its annual output this year to 1.5 million cars.
As a bellwether for lithium demand, its continued rapid growth trajectory suggests the lithium price will remain well-supported.
2. Savannah Resources (LON: SAV)
With a market cap of only £51 million, this London-based FTSE AIM stock has significant growth potential over the next few years. Savannah has a 100% interest in the Barroso Lithium project in Portugal, the largest spodumene lithium deposit in Western Europe.
With a definitive feasibility study underway, it could well become integral to Europe's lithium battery supply chain, with the project predicted to generate enough lithium for 500,000 vehicle battery packs per year.
It's likely to enjoy political support; Russia's invasion of Ukraine and China's pandemic-induced closure of Shanghai are causing European countries to re-evaluate supply chains, and specifically security of supply. For example, China controls 80% of battery cell production and maintains a market-leading position in lithium refining.
And lithium supply will become ever more relevant as the EU moves towards banning ICE cars by 2035 and towards net-zero by 2050.
3. Lake Resources (ASX: LKE)
Lake Resources is an Australian-listed lithium miner with a market cap over AU$1 billion. It owns the flagship Kachi project, which together with three other majority-owned lithium brine projects in Argentina cover 2,200 square km in the lithium triangle, where 40% of the world's lithium is mined at the lowest cost per tonne. However, what makes Lake unique is its proprietary clean extraction technology which it uses to create high-purity battery quality lithium carbonate. Its long-term partner, the Bill Gates-backed Lilac Solutions, has developed a 'benign water treatment' which returns all water (brine) to the mining source without changing its chemistry, making it far more environmentally friendly than conventional brine evaporation or hard rock mining.
With environmental concerns a top fear for lithium mining, Lake could become a top lithium stock for ESG investors.
4. Albemarle (NYSE: ALB)
Albemarle is the giant of the United States lithium space, but still hasn't escaped the market crash this year, falling from $271 to $207 in just the past two months. However, this drop could represent an excellent buying opportunity.
Owning lithium mines in Chile and Australia, Albemarle's focus is as a speciality chemicals company, deriving most of its revenue from refining lithium to supply EV battery manufacturers. And it's planning to double domestic lithium production to smooth out any supply chain shocks, as well as invest heavily in R&D for lithium battery technology. After boosting guidance, it expects to make around $6 billion of sales in 2022, with CEO Kent Masters expecting 'full-year 2022 adjusted EBITDA to be up more than 160% from prior year based on favorable market dynamics for our Lithium and Bromine businesses.'
5. Ganfeng Lithium (HKG: 1772)
Ganfeng Lithium is China's largest lithium miner. The company's competitive edge is in its control: it handles lithium through the entire supply chain, from mining its primary source in Australia, shipping to China, processing, and delivery to customers.
And given China's position as processor of 80% of the world's lithium, Ganfeng enjoys strong political support from the Chinese Communist Party.
It also has some key home market advantages; unofficially it's the preferred supplier to domestic EV companies such as NIO and XPENG. And it also has strong cash reserves and healthy profit margins, helping its share price to rise in 2022, fighting the prevailing trend.